Our Culture


Sustainable Growth
The concept of sustainable growth is an integral part of A.F. Blakemore's business strategy and is clearly stated in The Blakemore Way.
This sustainability refers to the way in which the company's growth is built upon a strong financial footing, the way in which it develops its people, serves customers, builds relationships with business partners, provides a positive contribution to the community and minimises its environmental impact.
These values outlined in The Blakemore Way are perfectly illustrated in the company's corporate responsibility programme, which seeks to put in place clear measurements and targets relating to how we, as a company, live The Blakemore Way.
A.F. Blakemore & Son Ltd has been a committed member of Business in the Community since 2003. BITC is the largest and longest established corporate responsibility organisation in the UK and has played an integral role in the establishment and development of our Corporate Responsibility strategy.

We have also been guided by the BITC model in categorising our core corporate responsibility impact areas and have broken these down into: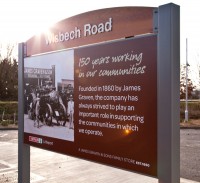 News

January 09, 2020
January 08, 2020
Blakemore Foodservice Announces Contract with SOHO Coffee Co.
December 04, 2019
SPAR International Presents A.F. Blakemore with Special Recognition Award
View all Stories