Our Culture


Safety, Health & Environment
The management of A.F. Blakemore & Son Ltd, incorporating all areas of the business and subsidiary companies (The Company), regard the promotion of safety, health and environmental protection measures as an absolute requirement for management and employees at all levels.

The company has made a commitment to:
Comply with current and forthcoming legislation in regards to matters that relate to health and safety or the environment

Take account of the views of its stakeholders when formulating and reviewing its policies and procedures

Take all reasonably practicable steps to eliminate or otherwise reduce to an acceptable level, risks of injury and ill health to its employees, customers and others who may be exposed to such hazards

Prevent pollution and ensure effective control of the aspects of its business that could impact upon the environment

Develop and maintain occupational safety, health and environmental management systems that are compatible with the BS EN OHSAS 18001 and ISO 14001 standards and implement them across all sectors of its business

Set clear targets to ensure continual improvement within its management systems and the performance of its undertaking

Provide employees with suitable and sufficient information and training in order that they are able to carry out their responsibilities in a manner consistent with this Group Policy

Ensure that this policy is effectively communicated to all persons that are employed by or otherwise undertake activities on behalf of The Company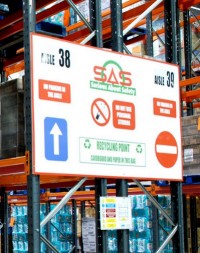 Primary responsibility for setting objectives and reviewing performance resides with the Managing Director and the Board of each division of the company.

A copy of the Group Safety, Health and Environmental Policy Statement shall be clearly displayed at each of the premises occupied by The Company. A copy of the Company's Policy Manual is kept in the Senior Manager's office and will be made available to interested parties upon request.

This Group Policy Statement shall be reviewed annually by the Main Board or more frequently as circumstances require.
News

December 23, 2022
Donations Worth £65,000 Awarded to Good Causes at Christmas
December 08, 2022
A.F. Blakemore Christmas Campaign to Give Away up to £100,000 Worth of Prizes
November 28, 2022
A.F. Blakemore Wins at FWD Gold Medal Awards
View all Stories