Info Centre


SPAR Brayford Wharf Relaunches with New Food-to-go Range
January 23, 2019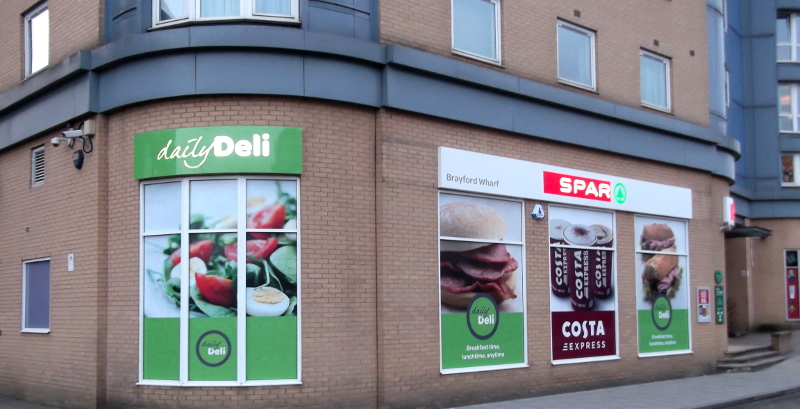 SPAR Brayford Wharf has undergone a significant transformation to introduce Blakemore Retail's latest hot and cold food-to-go offer via the Daily Deli counter-service format.
Situated in Brayford Wharf East, at the edge of the University of Lincoln's city centre campus, the fully re-fitted store launched on January 18th.
SPAR Brayford Wharf has had a major refurbishment to modernise the store and offer a new Daily Deli food-to-go range, which includes serve-over breakfast and lunch options, cream cakes and a hot and cold food selection, daily.
The 1,227 sq ft store has also been kitted out with the latest refrigeration units and LED lighting to improve the store's energy efficiency.
This recent development at Brayford Wharf represents Blakemore Retail's continued investment in developing fresh foods and food service within its store estate.
Acting Head of Blakemore Retail Matt Teague explained further: "The development of fresh foods and food service is a significant aspect of the current and future strategy for Blakemore Retail.
"Providing solutions to satisfy the shopping missions 'food for now' and 'food for later' remain our focus, and this approach is supported by market-trend data.
"The latest development at our Brayford Wharf store clearly demonstrates our focus in these areas and our commitment to investing in them.
"Brayford Wharf is a store dominated by the local student population and has had our latest 'food for now' offer installed via the Daily Deli counter service format, providing quality, value for money meal solutions, with both hot and cold options."
The SPAR will be open from 7am to 11pm every day.
The refurbished SPAR store in Brayford Wharf, Lincoln
News

August 13, 2020
A.F. Blakemore Expands Operations with Acquisition of Online Vegan Store
July 24, 2020
Philpotts Signs Up to Too Good to Go Food Waste App
July 23, 2020
Blakemore Retail Trials Self-service Checkouts
View all Stories