Info Centre


Philpotts Signs Up to Too Good to Go Food Waste App
July 24, 2020
Philpotts has joined Blakemore Retail in signing up to the Too Good to Go food waste fighting app.
The app launched in the UK in 2016 to help tackle the 10 million tonnes of food wasted each year by saving fresh and short-dated meals and products thrown away by restaurants and retailers. It enables people to buy short-dated food for a reduced price.
App users searching for food in the Leeds area now have the option of purchasing from the Leeds Bridgewater Place Philpotts store. More Philpotts sites will be registered on the platform as and when they reopen.
The Leeds store makes up bags of surplus fresh food at the end of each day, which Too Good to Go app users can then purchase for £3.50. The food's typical value would be circa £10 if bought in-store, so shoppers will be making significant savings.
The bags of surplus food consist of freshly made baguettes and sandwiches with a variety of fillings, mouth-watering salads, sweet treats and sometimes even a tub of soup. All of the food is prepared freshly in the store's kitchen the same day.
After placing an order for a bag on the app, customers are allocated a time to collect their bag of goodies from the Philpotts store.
Retail Transformation Project Manager Matt Main commented: "This app is a great way to help us reduce the amount of perfectly edible food that goes to waste every day.
"It will enable our customers to get some fantastic deals and encourage them to try things off our menu that they wouldn't usually.
"With Too Good to Go having around 2.5 million users in the UK, it's also a great opportunity for us to attract new people to Philpotts who don't already buy from us.
"The bags are proving popular and are selling out fast."
So far, it is estimated that the Leeds Bridgewater Place store has saved more than 250 meals from being wasted as a result of signing up to Too Good to Go.
A.F. Blakemore first signed up to the app in January this year, when it began a trial with 15 Blakemore Retail stores based in Lincolnshire.
More than 50 SPAR stores across England and Wales are now registered on the platform.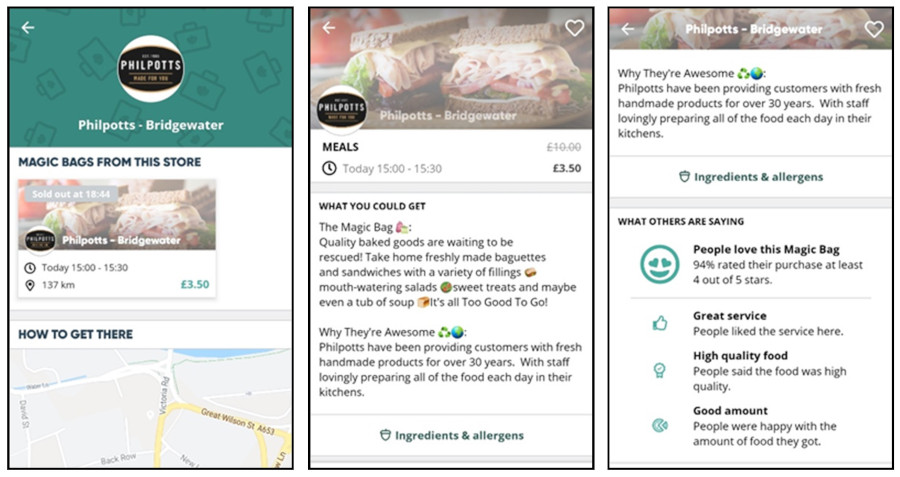 A few screenshots of Philpotts on the Too Good to Go food waste app
News

October 01, 2020
A.F. Blakemore Launches New Commission Operator Store Model
September 30, 2020
SPAR Y Maes Takes Home Top Prize at Convenience Awards
August 13, 2020
A.F. Blakemore Expands Operations with Acquisition of Online Vegan Store
View all Stories