Info Centre


Peter Blakemore Outlines Vision for One Company with One Goal
July 04, 2019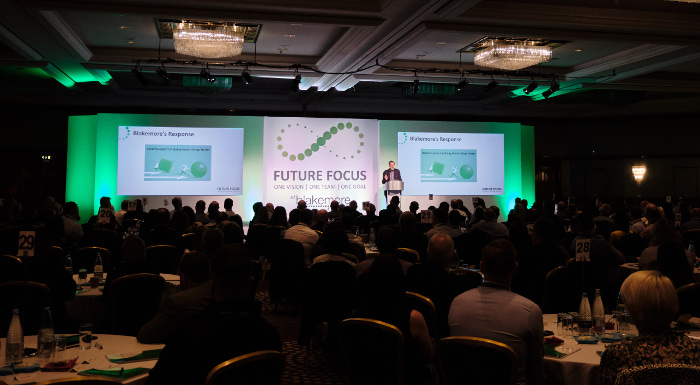 Peter Blakemore has reinforced his vision of one company with one goal for A.F. Blakemore & Son Ltd at the company's 2019 Management Communication Day.
The event took place at the Hilton Metropole at the NEC in Birmingham on July 2nd, with more than 200 colleagues from across A.F. Blakemore in attendance.
The Communication Day focused on the plans that will enable A.F. Blakemore to achieve its strategy, with Chairman Peter Blakemore introducing the day with two key projects: one unified management team and a new five-year strategic programme.
Peter explained: "Our ambition is one company, one management team and one plan. We have now moved away from divisional structures and towards one unified management team with new group-wide trading, marketing, store proposition and merchandising functions that will enable us to leverage skills and experience across the group to drive the business forward.
"To achieve our strategy, we've established a new rolling five-year programme that will change as the market evolves, spanning all of the areas in which we operate."
This year's guest speaker was leading innovator in customer service management Linda Moir, who spoke about the importance of customer experience.
In 2012 Linda led the Event Services team at the London Olympic and Paralympic Games to achieve one of the most iconic and memorable games. Previously, as Virgin Atlantic's Director of In Flight Services, she was responsible for the airline's award-winning service.
Drawing on Virgin Atlantic's service promise of 'Brilliant Basics, Magic Touches', Linda explained the importance of getting the essentials right in business, but going the extra mile to make experiences extra special for the customer.
Fourth-generation Blakemore family members Caoire, Tom and Charlie also took to the stage to emphasise the importance of the long-term sustainability of the business and re-launch the company's Blakemore Way values, which were first introduced into the business more than 12 years ago.
Caoire, Tom and Charlie emphasised the unique position of A.F. Blakemore, with only 4% of family businesses making it into the hands of the fourth generation.
Colleagues were invited to pledge their commitment to the Blakemore Way values by writing down on a postcard what action they would take to embed them in the business. The postcards, which were posted at the end of the day, will be redistributed to colleagues to remind them of their commitments later this year.
Peter Blakemore concluded the day with an address to delegates: "Our plans are ambitious but achievable – and if achieved will make our company into something very special.
"With enthusiasm and energy we can make these plans happen, so please play your part in helping to deliver our strategy."
More detailed information on A.F. Blakemore's strategy will be communicated to colleagues later in the coming months.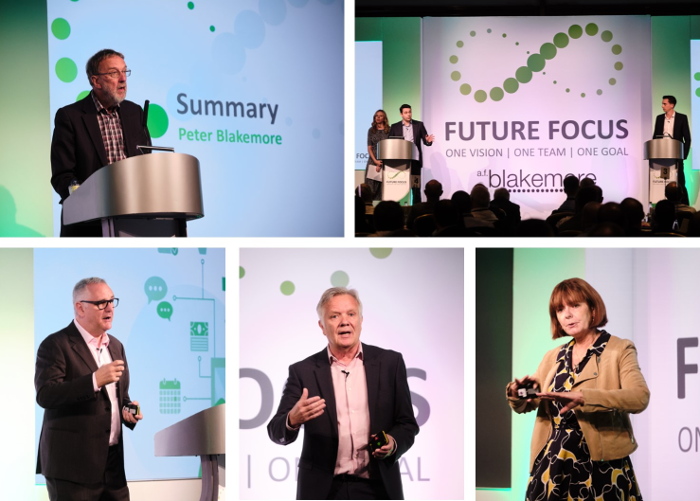 Delegates heard from presenters including AFB Chairman Peter Blakemore; fourth-generation family members Caoire, Tom and Charlie Blakemore; AFB Managing Director for Commercial Jerry Marwood; AFB Managing Director for Operations Geoff Hallam; and guest speaker Linda Moir
News

August 13, 2020
A.F. Blakemore Expands Operations with Acquisition of Online Vegan Store
July 24, 2020
Philpotts Signs Up to Too Good to Go Food Waste App
July 23, 2020
Blakemore Retail Trials Self-service Checkouts
View all Stories