Info Centre


New Eat 17 Hammersmith Store Reinvents the Market Hall
August 14, 2018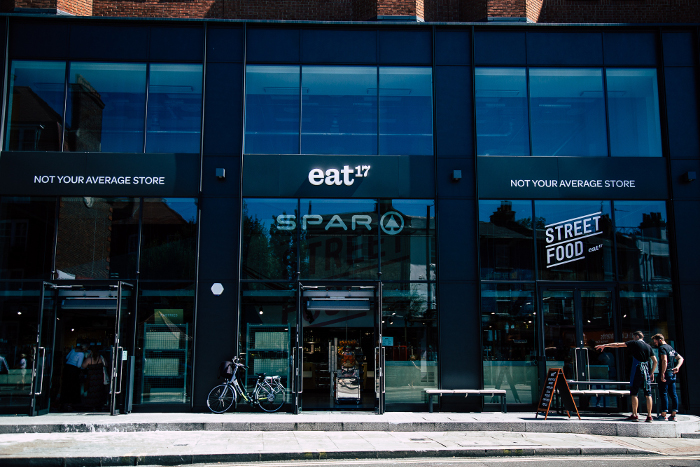 Multi-award-winning fine food store and restaurant chain Eat 17 has opened a new store in Hammersmith, complete with an indoor street food market and yoga classes.
Eat 17, which combines elements of a convenience store with a dining scene, opened its new store in Hammersmith on August 2nd as part of its plans to expand in the capital.
The new store is situated on Smiths Square Market on Fulham Palace Road and is the fourth addition to the Eat 17 chain, which already has stores in Walthamstow, Hackney and Bishop's Stortford.
The Hammersmith addition offers a unique interactive shopping experience that reinvents the market hall – offering the finest food and drink, 100 refillable food lines, an indoor street food market and yoga classes in the store.
Eat 17's own-brand ranges such as Bacon Jam and fresh bakery items share aisles with everyday SPAR essentials and local concession ranges. There is also self-serve coffee, wine and beer growlers as well as signature coffee in the bar area and soft-serve ice cream.
The dining area consists of three street food booths serving up fresh dishes from local food concessions including The Pizza Project, Knowing Meat knowing You and Bun Kabab of Empress Market Pakistani Kitchen.
The booths are surrounded by beautiful plants and feature lighting, and there is a seating area opposite. There is also a 2,000 square foot mezzanine room where yoga classes will take place.
Co-founder James Brundle of Eat 17 said: "We're very excited to open our new store in Hammersmith as part of Eat 17's plans to expand across London.
"The Hammersmith store is a great addition to our stores and restaurants and it should serve the area well in a prime location on Fulham Palace Road.

"We aim to offer customers the finest quality food and drink – bringing the best from local concessions together with our own-brand ranges.
"We aim to provide an eco-friendly shopping experience and our 100 refillable food lines are very popular with customers who wish to cut down on their plastic use. They can bring their own reusable containers and refill items such as olive oil, detergent, pasta, rice, cereals, nuts and grains.
"The indoor street food market dining concept has proven to be a hit in our Bishop's Stortford store and we expect the reception to be just as positive in the new Hammersmith store.
"Providing the best experience for customers is at the heart of everything we do at Eat 17 and that's why we've chosen to use the well-lit mezzanine space for yoga classes to add to the customer experience on offer."
Eat 17 will be opening another store in High Road in Leytonstone later this year, which will be the fifth store in the Eat 17 chain.
The new Eat 17 on Smiths Square Market, Fulham Palace Road
News

August 13, 2020
A.F. Blakemore Expands Operations with Acquisition of Online Vegan Store
July 24, 2020
Philpotts Signs Up to Too Good to Go Food Waste App
July 23, 2020
Blakemore Retail Trials Self-service Checkouts
View all Stories