Info Centre


Inside Eat 17's Latest Store at Bishop's Stortford
January 31, 2018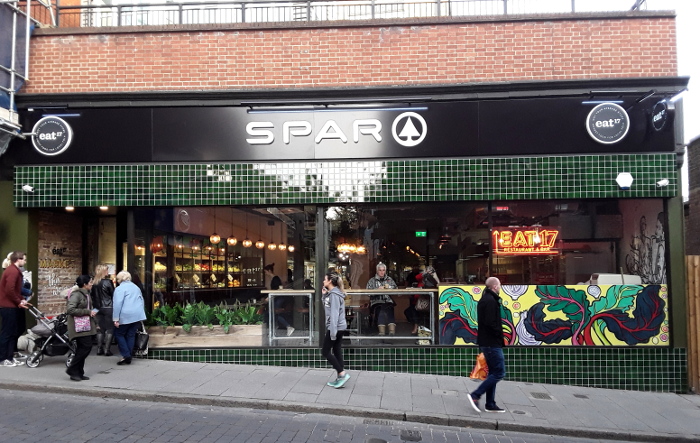 A.F. Blakemore and entrepreneurial business partners James Brundle and Chris O'Connor opened their latest Eat 17 store in the Hertfordshire town of Bishop's Stortford in November.
The 5,000 sq ft site is the fourth and largest Eat 17 store, with a format combining a traditional grocery shop and instore dining.
Focusing on locally sourced fresh produce alongside world cuisine, the store boasts three street food concessions serving a range of Mexican, Japanese and Italian options. Customers can eat their meals in a large seating area that includes booths and open-plan tables, or take their food away.
An Eat 17 bar serves beers, wines, cocktails, toasties and Eat 17's own coffee blend from Perky Blenders. For anyone wishing to take their drinks home, the store also stocks an extensive range of craft beers, ciders, spirits, Eat 17-branded wines and value wines. Customers can even fill their own wine bottles at a self-serve fixture.
As well as street food concessions, the site hosts a fishmonger, The Fresh Fish Shop, and a florist, Hanaya Floral.
Like Eat 17's other sites in Walthamstow, Hackney and Whitstable, the Bishop's Stortford store stocks a wide range of locally sourced products plus Eat 17-branded ready meals and groceries.
Locally sourced fruit and vegetables are displayed in rustic-looking wooden boxes and chillers near the store entrance, and two bakers come in every morning to bake fresh, organic loaves of spelt, wholemeal, seeded and white bread.
Own-brand meat and chilled Eat 17-branded products such as ready meals and sandwiches are prepared in Eat 17's Hackney store and delivered four times a week. Eat 17 products also include marmalade, olive oil, spices, cereals, wine and Bacon Jam.
Eat 17 is a joint venture between A.F. Blakemore and independent retailers James Brundle and Chris O'Connor. Since the business was established in 2006, it has become renowned in the convenience sector for its entrepreneurial flair, innovation and quality produce.
Eat 17 plans to launch two further new stores in London this year as part of a long-term expansion plan. A site in Hammersmith is currently in development, and a further one is expected to open in Leytonstone later in 2018 as part of a rollout rate of two stores a year.
A.F. Blakemore Commercial Director Caoire Blakemore commented: "Bishop's Stortford is the latest concept store for Eat 17, bringing together a whole host of fresh ideas – in part inspired by a SPAR study tour last summer to Europe.
"As they do so well with all stores, Chris and James have tailored their ideas to suit the needs of the local community, with their London foodie flair creating a unique street food offering.
"With eating out of home continually growing in market share, a wide range of ready-to-eat solutions in a convenience store has never been more relevant.
"At this latest site there are additional products under the Eat 17 brand, and for the first time a fish counter, following the success of the butchery counter at Homerton, which now serves all Eat 17 stores.
"These specialist ranges compliment the SPAR range perfectly – resulting in a modern convenience store with a passion for food at its heart, serving a wide audience in a diverse set of formats."
Here are a few photos of the store:
News

August 13, 2020
A.F. Blakemore Expands Operations with Acquisition of Online Vegan Store
July 24, 2020
Philpotts Signs Up to Too Good to Go Food Waste App
July 23, 2020
Blakemore Retail Trials Self-service Checkouts
View all Stories