Info Centre


Drivers Celebrate Warehouse to Wheels Success
October 29, 2018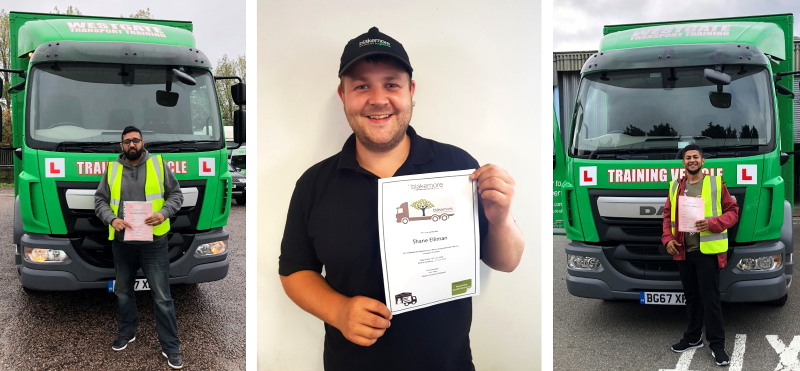 Since April 2018, ten A.F. Blakemore employees have successfully qualified as LGV drivers on the company's Warehouse to Wheels programme.
Matthew Baguley, Ben Mahon, Shane Elliman, Damien Wood, Josh James, Jamie Skelding, Ashley Cottrell, Nathan Rafferty, Tarundeep Singh and Manish Sharma from Blakemore Logistics are now qualified drivers after passing their LGV driving test.
The Warehouse to Wheels driver training programme was launched in 2008 by A.F. Blakemore to provide warehouse employees with the opportunity to train as LGV Class C drivers. Circa 50 members of staff have gone through the programme since.
A total of 29 employees from across Blakemore Logistics, Foodservice, Fine Foods, Wholesale Distribution and Fresh Foods are currently going through the programme.
Logistics Compliance Manager Dave Higgs commented: "The driver shortage in the UK is one of the biggest challenges facing the transport sector, with a deficit of between 45,000 and 50,000 drivers this year alone.
"Warehouse to Wheels is a fantastic programme providing our warehouse staff the opportunity to progress their careers at the same time as responding to the driver shortfall we are experiencing.
"A huge congratulations to the ten employees who have completed the programme this year."
The programme is available to staff from Blakemore Foodservice and Blakemore Logistics, and in the West Midlands the course is delivered by training providers GTG.
To be eligible for the course, staff need to be at least 18 years of age and have held a clean driving licence for a minimum of one year. Once accepted onto the programme, candidates undergo a medical to ensure their fitness.
The course then incudes a three-part theory test on LGV Hazard and Perception, LGV Multiple Choice and LGV Certificate of Professional Competence, and Class C driver training.
Damien Wood commented: "Warehouse to Wheels is a great scheme, and it's good that A.F. Blakemore is putting people through it and giving them a chance to better themselves. I would recommend the scheme to anyone."
Pictured above, left to right: Tarundeep Singh, Shane Elliman and Damien Wood celebrate qualifying as LGV drivers on A.F. Blakemore's Warehouse to Wheels programme
News

March 20, 2020
SPAR Meets Surge in Supply Demand
March 19, 2020
Colleagues Praised for Outstanding Service in Coronavirus Crisis
March 19, 2020
View all Stories