Info Centre


Defibrillator Installation Now Complete Across AFB RDCs
January 30, 2018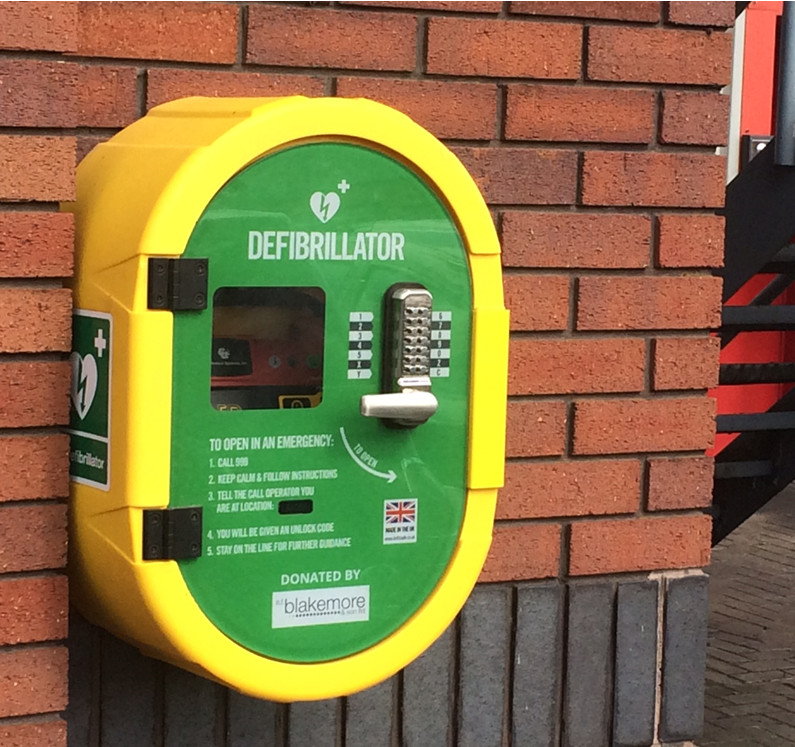 A.F. Blakemore has now completed its rollout of automated external defibrillators (AEDs) across its retail distribution centres.
Last year the company purchased 10 defibrillators to install at its regional distribution centres in order to be better equipped in the instance of future emergencies.
An automated external defibrillator (AED) is a portable device that checks heart rhythm and can send a high-energy electric shock to the heart to try to restore the normal rhythm of someone in cardiac arrest.
Survival rates as high as 75% have been achieved when a defibrillator is nearby and used within eight minutes of the casualty suffering sudden cardiac arrest.
Group Board Director Tom Blakemore said: "As a large family business we have a responsibility to provide access to the most up-to-date life-saving equipment should an emergency ever arise.
"A defibrillator is an essential step in the chain of survival when dealing with sudden cardiac arrest, and by installing them at sites and stores across the business we have made sure that staff and visitors receive the best possible chance."
Blakemore Retail has also purchased and installed six AEDs at its stores in Warboys, Aldridge, Upton, South Woodham Ferrers, St Neots and Lawnswood, with a further batch of 10 currently on order.
A defibrillator donated by the National Grid has also been installed at Thorngumbald.
Using the Defibrillators
At each of the distribution centres, the defibrillators are located on walls in lockable boxes. In the case of an emergency, the code for the boxes can be retrieved by calling 999.
No training is required to use a defibrillator as the machine gives clear spoken instructions, and applying it to someone who does not need it will not cause harm.
The defibrillators are situated in the following locations at A.F. Blakemore's distribution centres:
Willenhall: outside main reception and also at the front entrance to B Block
Blakemore Fine Foods, Willenhall: inside Goods In
Axcess 10: at the side warehouse entrance
Apex II: outside main reception
Talbot Green: in the security guard house and also at Goods In
Hastings: inside the outside operations office
Foodservice Darlaston: outside the staff entrance
Foodservice Wakefield: by the Goods In door
In the instance of an emergency, please follow these guidelines:
1) If you come across someone who is not breathing or breathing erratically, the most important thing is to call 999 and start CPR to keep the blood flowing around the body. After a sudden cardiac arrest, every minute without CPR and defibrillation reduces someone's chance of survival by 10 per cent.
2) If you are on your own, don't interrupt the CPR to go and get a defibrillator or a First Aider. If it's possible, send someone else to find one. When you call 999, the operator can tell you if there's a public access defibrillator nearby.
3) Once the defibrillator is open and in position, all you have to do is follow the spoken instructions. Many defibrillators will also have diagrams or a screen to help you. The defibrillator detects the heart's rhythm, it won't deliver a shock unless one is needed.
4) Often you'll need to press the shock button although some fully automatic defibrillators will deliver the shock themselves. You should resume CPR as soon as instructed by the defibrillator.
News

June 17, 2020
AFB to Give Away £30,000 with Community Cashback Scheme
April 30, 2020
Blakemore Retail Launches Home Delivery Website
April 23, 2020
A.F. Blakemore Introduces Home Delivery for Most Vulnerable
View all Stories