Info Centre


Blakemore Retail Conference 2018: Shaping Our Future - The Pace of Change
June 28, 2018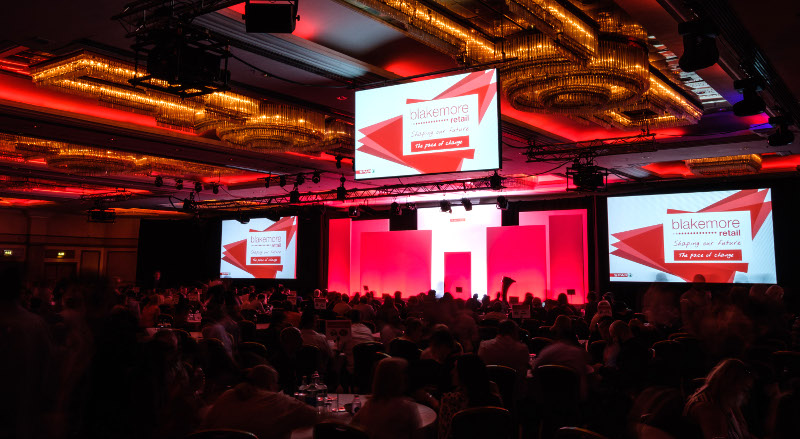 "The Pace of Change" was the key theme of Blakemore Retail's 2018 Managers Conference this summer.
More than 500 store managers, field staff, A.F. Blakemore colleagues and suppliers attended the conference and gala dinner at the Hilton Birmingham Metropole on June 6th and 7th.
Blakemore Retail's management team took to the stage alongside colleagues from A.F. Blakemore and representatives from the NSPCC, ACS and HIM to present on the company's key achievements from the last financial year and development plans for the future.
Using the Shaping Our Future strapline from last year for its continued relevance, the main focus of the 2018 Managers Conference was "The Pace of Change".
Blakemore Retail Managing Director Stuart Adkin opened the conference by thanking all stores and individuals from across the Blakemore Group for their support over the past year.
Stuart introduced the central theme of the conference, "The Pace of Change", and expressed the important role that everyone can play in helping Blakemore Retail move at a pace to achieve its goals to diversify its store estate, improve fresh sales, increase profitability and reduce costs, all to drive the business forward.
In his own presentation, Stuart discussed store propositions and formats and encouraging the best out of company-owned stores. Stressing that continual growth is key in today's changeable climate, Stuart introduced a new analysing process used to determine the best format for a store's development.
Joint Group Managing Director Geoff Hallam presented on recent major changes within the industry and outlined A.F. Blakemore's plans for the Group over the next 12 months.
Geoff explained: "A.F. Blakemore & Son will remain a family-run, value-led business, with a renewed focus for 2018/19 on doing fewer things better and still being diversified.
"As a business we have decided to concentrate and invest in SPAR as well as develop smaller divisions within the Group.
"We will be looking for opportunities to cultivate strategies to reduce costs, remove duplication and improve efficiency in order to grow the business and increase the Group's profitability."
Group Retail IT Strategy Manager Martin Rushton updated delegates on the progress of the new commercial IT system, set to improve the sharing of data across the business. Currently entering phase one of its implementation, the new system is due to be rolled out to stores from November 2018.
A food service update focused on fresh food development and how Blakemore Retail can grow through improving its fresh food and food-to-go offering. Also introduced was the new Tonight's Tea range set to inspire and satisfy customer shopping missions.
A social media update introduced plans to provide digital solutions to customers through mobile technology, utilising search activity to drive customers to Blakemore Retail stores.
During the event, Stuart presented the Blakemore Retail Store of Excellence Awards along with Blakemore Retail's annual Colleague of Excellence Awards to employees.
The event culminated with a community update that praised colleagues for their continued commitment to community engagement and unveiled plans to introduce Community Champions into stores.
Following on from this was an announcement that Blakemore Retail raised a massive £319,046 for the NSPCC during the 2017/18 financial year, which has resulted in a phenomenal fundraising total of over £3 million during the 10-plus years the charitable partnership has been in place.
At the end of the first day delegates enjoyed a Club Tropicana themed gala dinner followed by entertainment from George Michael tribute act Rob Lamberti.

Congratulations to the Store of Excellence and Colleague of Excellence award winners:
Store of Excellence winner:
Crewe (Dave Holland)

Store of Excellence winner:
Hagley (Steve Fleming)

Store of Excellence winner:
Wyberton (Loraine Moran)

Post Office of Excellence winner:
Burgh Road (Tina Holmes)

Area Manager of the Year:
Donna Cooper

Colleague of Excellence Store winner:
Chantal Doyle, Kidderminster

Colleague of Excellence Food Service winner:
Jessica Badrock, St Leonards

Colleague of Excellence Post Office winner:
Karen Hickson, Wardles Lane

Outstanding Contribution Award winner:
Owen Davies

Here are a few photos of the Club Tropicana themed evening:
News

February 03, 2020
A.F. Blakemore Partners with Disability Sport Wales
January 24, 2020
A.F. Blakemore Trials Food Waste Fighting App
January 09, 2020
View all Stories