Info Centre


Blakemore Logistics Helps 100 Young People into Work
May 28, 2018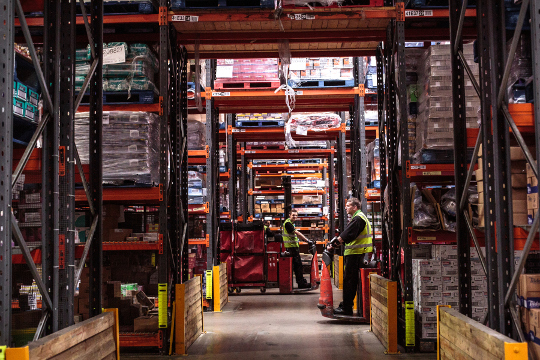 Blakemore Logistics has helped more than 100 young people into work as a result of a partnership with a West Midlands employability programme.
Black Country Impact (BCI) offers help to 16 to 29-year-olds in Dudley, Sandwell, Walsall and Wolverhampton who are currently not in employment, education or training.
By forging partnerships with businesses and training providers, the scheme has helped more than 6,000 people take a first step on the employment ladder.
Black Country Impact offers four-day training programmes to prepare young people for an interview with Blakemore Logistics. A two-week work trial follows, with an offer of full-time employment if the candidate impresses.
To date, since the partnership started in March last year, 111 young people from the Black Country have secured full-time jobs with A.F. Blakemore in warehouse roles including forklift truck driving, order assembly and loading.
Warehouse Assembler Stephen Pilcher, 23, from Sedgley, said: "I've been at Blakemore's for 10 months now and have been able to move out into my own place.
"I've now got myself a passport and am looking forward to future holidays and starting my driving lessons. It's changed my life, it really has."
Warehouse Assembler Andrew Bastable, 20, from Coseley, said: "I've been at Blakemore's for five months now, having previously been out of work for seven months.
"Blakemore's has really helped me and it is a great place to work, with good pay and progression.
"My work trial with Black Country Impact worked well and got me this opportunity to get into a well-paid job. There's no looking back now."
Councillor Patrick Harley, leader of Dudley Council, said: "This is a fantastic example of the work Black Country Impact is doing to get young people in our region into work.
"Through the relationships they have expertly built up with businesses and training providers, they can get a foot in the door for young people that they otherwise might not get.
"It's partnership working at its very best, and it's allowing a Black Country firm to give jobs and a first foot on the employment ladder to Black Country folk."

Since March 2017, 111 young people from the Black Country have secured full-time jobs with A.F. Blakemore in warehouse roles including forklift truck driving, order assembly and loading
News

June 17, 2020
AFB to Give Away £30,000 with Community Cashback Scheme
April 30, 2020
Blakemore Retail Launches Home Delivery Website
April 23, 2020
A.F. Blakemore Introduces Home Delivery for Most Vulnerable
View all Stories