Info Centre


Blakemore Logistics Delivers Road Safety Message to Schools
November 28, 2018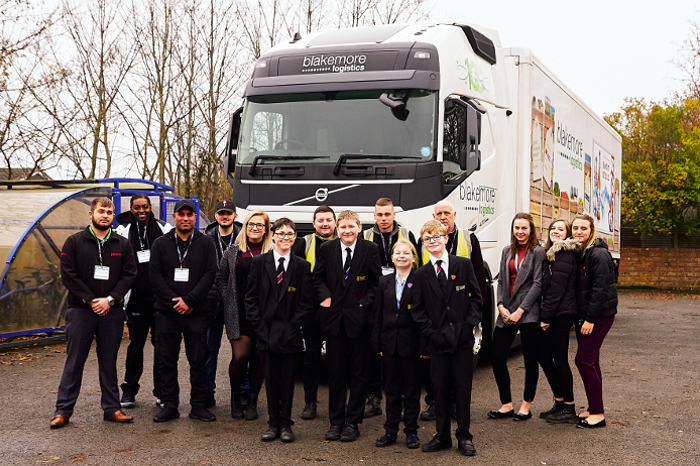 More than 800 pupils from across the West Midlands have been educated on the rules of the road as part of Blakemore Logistics' annual road safety campaign.
Students from five different secondary schools across the region took part in the week-long event, which ran from November 19th to 21st to coincide with Brake's national Road Safety campaign.
The company's Road Safety Week was led by volunteers from Blakemore Logistics who gave pupils a demonstration of an A.F. Blakemore vehicle to highlight the dangers of playing near large HGVs.
Pupils also participated in classroom-based activities to highlight the different job roles within the logistics sector through team-work facilitated games.
Road Safety Week is targeted at Year 7 pupils, as for many students this will be the first time that they commute to and from school on their own.
A.F. Blakemore Community Affairs Officer Liz Blakemore said: "As a food and drink distributor with more than 300 vehicles on the roads each day, we have a responsibility to educate pupils about the importance of road safety.
"Each year we incorporate a new element into our core road safety campaign, and this year this centred on the roles available in logistics in order to further expand pupils' job prospects for the future."
The Khalsa Academy Assistant Principal Rashpal Channa commented: "The students found the sessions really interesting. I spoke to them afterwards and they were talking about personal safety and the safety features on the lorry.
"The students loved the lorry driver and how he interacted with them. Road safety is an important topic that all our children need to understand. The opportunity that A.F. Blakemore has provided us has taught students about road safety issues in the real world."
Here is a selection of photos of pupils from Pool Hayes Academy being educated on the rules of the road:
News

August 13, 2020
A.F. Blakemore Expands Operations with Acquisition of Online Vegan Store
July 24, 2020
Philpotts Signs Up to Too Good to Go Food Waste App
July 23, 2020
Blakemore Retail Trials Self-service Checkouts
View all Stories