Info Centre


AFB Graduates Attend Leading the Blakemore Way
January 29, 2018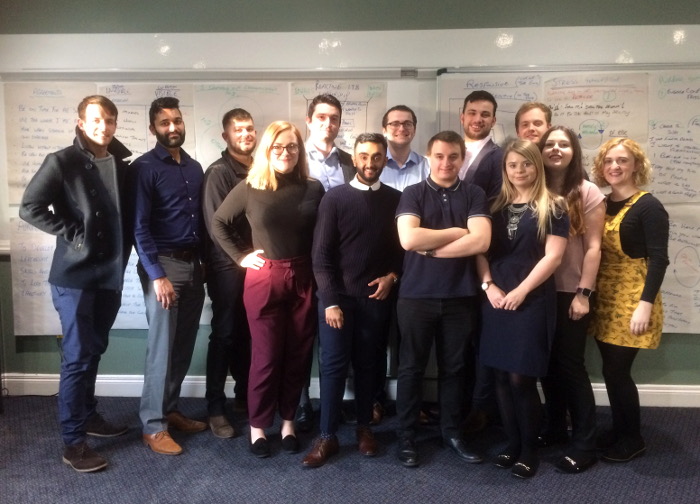 A.F. Blakemore delivered a three-day Leading the Blakemore Way course in January for some of the company's most recent graduate joiners.
The residential programme, which took place at the Moat House in Acton Trussell, was attended by thirteen graduates from Retail, Trade Partners, Logistics, Foodservice, Fine Foods, HR and Property. All joined the business in the last 12 months.
The purpose of the course was to develop the graduates' leadership attitudes, skills and capability to lead the Blakemore Way effectively and enjoyably.
It was co-delivered by Mark Collins from leadership consultancy Mind at Work, which designed the Leading the Blakemore Way programme, and A.F. Blakemore Retail Excellence Manager Dave Hammond.
Dave commented: "I had the privilege and good fortune of supporting Mind at Work in the delivery of our three-day Leading the Blakemore Way programme to the company's most recent group of gradates earlier this month.
"It was an enjoyable and enlightening few days, with the delegates coming forward and challenging themselves around the material, which made my job very easy.
"I was encouraged and proud in the acknowledgment that A.F. Blakemore is investing and supporting young talent in the business and paving the way for the future, and a very bright and intelligent bunch they were too!"
All those who attended the programme will have the opportunity to receive ongoing Leading the Blakemore Way coaching and access further development courses in the future.
More information on upcoming learning & development opportunities across A.F. Blakemore can be found on the Training Calendar page of the Staff Zone.
To register your interest or request further details, please contact Graduate Learning & Development Officer Olivia Millard at .(JavaScript must be enabled to view this email address).
Please note that approval from your line manager is required before enrolment on any training course.
Pictured above:
All of the delegates who attended the Leading the Blakemore Way programme:
From left, Tom Gee (Fine Foods), Aaron Rajan (Trade Partners), Arnis Kleins (Logistics), Kelly Burrows (Logistics), Ian Cawley (Fine Foods), Rahul Sailopal (Foodservice), Scott Coughtrie (Trade Partners), David Jones (Fine Foods), Oliver Hillary (Property), Olivia Millard (HR), James Ward (Trade Partners), Hannah Flavell (Retail) and Natalie Watkins (HR)
News

February 03, 2020
A.F. Blakemore Partners with Disability Sport Wales
January 24, 2020
A.F. Blakemore Trials Food Waste Fighting App
January 09, 2020
View all Stories