Info Centre


A.F. Blakemore Continues to Drive Apprentices to Achieve Potential
May 26, 2017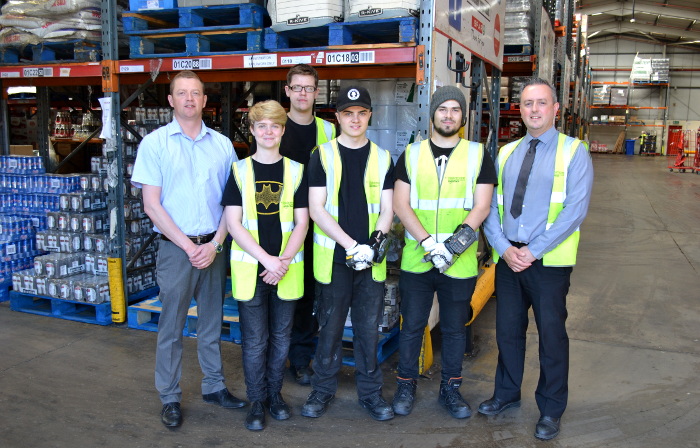 Five young rising stars have embarked upon a new career in logistics at A.F. Blakemore & Son.
Kyle Smith, Jack Ball, Jai Barry, Jack Ansell and Jenny Davies began their journey on the Logistics Apprenticeship Programme in May.
The scheme, which will recruit a further 10 apprentices each quarter, is aimed at developing people beyond the short-term objective of finding a job, by supporting and inspiring those who want to build a career in logistics or transport.
Blakemore Logistics General Manager Stewart Constable explained: "A.F. Blakemore has a history of developing the potential of young people. In fact, the new structure of the scheme has been created as a result of the successful apprentices we have worked with in the past.
"The programme offers support as well as the full commitment of A.F. Blakemore to deliver opportunities to those who wish to succeed."
The Logistics Apprenticeship Programme, which is anticipated to last 12 months, will train successful candidates in core warehouse skills, including assembling, loading and forklift truck driving.
Throughout the programme there will be set milestones to ensure the candidates' continued development and to enhance their understanding of the varying roles within the business.
There will also be the potential for ambitious apprentices to succeed into a supervisory, managerial or driving role after completion of the initial programme.
New apprentice Jenny Davies commented on her experience of the programme so far: "I have found the scheme very informative and I have gained lots of knowledge about working in a warehouse. For example, I now know how to handle and assemble cages and how to accurately take stock.
"Before I started working at A.F. Blakemore I was quite shy, but the family-based atmosphere and the friendliness and supportiveness of the staff has boosted my confidence and development.
"I now want to learn as much as I can and gain a FLT licence, with the hope of eventually progressing into a managerial role or even becoming a driver."
Blakemore Logistics Warehouse Manager Steve Morgan praised the new apprentices for their attentiveness and keenness to learn: "Whilst on the scheme the apprentices are not under pressure to perform, it is more about presenting the right attitude to learn and the willingness to contribute to the ongoing success of A.F. Blakemore & Son."
A.F. Blakemore plans to recruit 10 new supply chain warehouse operative apprentices onto its Logistics Apprenticeship Programme in July, October and February in conjunction with training provider Performance Through People (PTP).
For further information, please contact Lesley Turner from Performance Through People on 01922 651100 or email .(JavaScript must be enabled to view this email address).
Pictured above:
Left to right: Blakemore Logistics General Manager Stewart Constable, Jenny Davies, Jack Ansell, Jack Ball, Kyle Smith and Blakemore Logistics Warehouse Manager Steve Morgan
News

August 13, 2020
A.F. Blakemore Expands Operations with Acquisition of Online Vegan Store
July 24, 2020
Philpotts Signs Up to Too Good to Go Food Waste App
July 23, 2020
Blakemore Retail Trials Self-service Checkouts
View all Stories