Info Centre


A.F. Blakemore & Son Ltd Reports a Rise in Sales and Profits for 2015/16
January 10, 2017
A.F. Blakemore & Son Ltd has posted a 0.2% increase in profits and 2.4% increase in sales in its latest set of accounts.
The family-owned food retail, wholesale and distribution business, which celebrates its centenary in 2017, recorded annual sales of £1.31 billion with pre-tax profits up from £7.59 million to £7.60 million for the 2015/16 financial year. Net assets have also grown by 7.6% to £80.8 million.
A.F. Blakemore Chairman, Peter Blakemore, described the figures as a pleasing, steady result, thanking all members of staff for their efforts in achieving it.
Mr Blakemore said: "The result has been achieved against a background of difficult trading conditions in the food retail and wholesale markets together with significant levels of price deflation."
Cost control was cited as a major consideration during the year and Mr Blakemore pointed to the fact that the business has continued to retain and re-invest all of its post-tax profits into improving the group operations and those of its independent retail customers.
Mr Blakemore also looked ahead to the future and the company's 2020 vision, which is focused upon generating sustainable growth and long-term prosperity.
He said: "A.F. Blakemore has set out a vision for 2020 to solidify its position as a multi-market national food operator with a fantastic reputation for service among trade partners and consumers.
"Collaboration is now required across the A.F. Blakemore Group for the business to achieve its goals. More than ever we need to use the expertise from across our divisions to benefit the whole company, capitalising on economies of scale and the sharing of best practice."
Finally Mr Blakemore recognised the active role played by his mother, Mary, who passed away in September, in relation to the growth and development of the business.
"My mother was Chairman of the Group from 1986 to 2014 and made an important contribution to the success of the business," he said.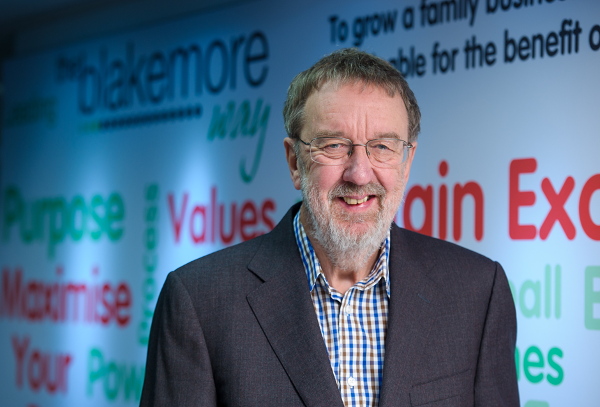 A.F. Blakemore Chairman, Peter Blakemore, described the figures as a pleasing, steady result
News

August 13, 2020
A.F. Blakemore Expands Operations with Acquisition of Online Vegan Store
July 24, 2020
Philpotts Signs Up to Too Good to Go Food Waste App
July 23, 2020
Blakemore Retail Trials Self-service Checkouts
View all Stories