Info Centre


A.F. Blakemore Rolls Out Equality, Inclusion & Diversity Sessions
July 03, 2018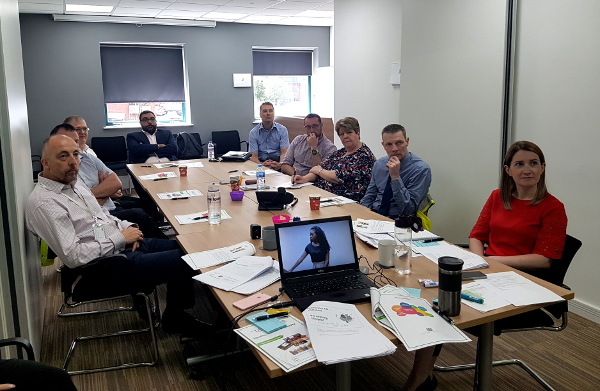 A.F. Blakemore has begun the rollout of a new Equality, Inclusion & Diversity (EID) awareness session across the company.
The aim of the session is to highlight the importance of equality, inclusion and diversity across A.F. Blakemore and to appreciate the business case for having a diverse workforce and respect for others.
Attendees engage in discussions around the definition of equality, inclusion and diversity as well as workplace policies, the Equality Act, the business benefits of EID awareness, banter and biases.
The aim is to create a relaxed environment for colleagues to discuss their experiences and share best practice. Feedback and discussion points from the sessions are brought back to A.F. Blakemore's EID Steering Group to review.
Seven half-day sessions took place across the West Midlands and Talbot Green in June, with eighteen sessions scheduled for delivery by the end of September.
Colleagues from across the A.F. Blakemore Group have been identified to take part to enable the sharing of experiences from different parts of the business. The sessions have initially been offered to colleagues at management level.
Learning & Development Projects Officer Sharanjeet Juss has led the meetings, with support from Learning & Development Officer Olivia Millard and Community Affairs Officer Clare Knowles.
Sharan commented: "We've had an exciting start to the rollout of the EID awareness sessions. Delegates have been passionate about their experiences and acknowledge the business's commitment to empowering leaders to consider equality, inclusion and diversity on a day-to-day basis.
"The content of the session invites delegates to reflect on challenges they may face and provides them with some useful tools from Leading the Blakemore Way to combat them."
Terry Bourne, who attended the first session in June, commented, "The content was very good and I was lucky to have the opportunity to be with a fantastic group of people from all over the business that wanted to be involved in the EID topic.
"I now have a better understanding of equality, inclusion and diversity. As a company there are huge benefits to be gained from a diverse workforce – it will enable us to perform better than the competition and grow sales.
"We all need to be involved and respected in helping to drive the business forward. This can be achieved simply through equal opportunities. Consider change for the better; diversity will drive change because change is important. Equality in the workplace needs to become more important."
The programme has been developed as part of A.F. Blakemore's EID Action Plan, devised by the company's EID Steering Group. The rollout follows an EID session that took place with the AFB Board in September 2017 and a pilot session that ran in January 2018.

Colleagues engage in activities to challenge their attitudes to equality, inclusion and diversity
News

August 13, 2020
A.F. Blakemore Expands Operations with Acquisition of Online Vegan Store
July 24, 2020
Philpotts Signs Up to Too Good to Go Food Waste App
July 23, 2020
Blakemore Retail Trials Self-service Checkouts
View all Stories