Info Centre


A.F. Blakemore Launches Apprenticeship Partnership with PTP
August 03, 2017
A.F. Blakemore has announced that West Midlands-based training company Performance Through People will be the lead provider in the delivery of its 2017/18 apprenticeship programme.

The agreement has been confirmed as part of A.F. Blakemore's response to the National Apprenticeship Levy which came into effect in May 2017 and requires companies to contribute 0.5% of their payroll to fund the training of apprenticeship provision.

A.F. Blakemore has selected Performance Through People as its lead provider and the two organisations have already developed a strong partnership to ensure that levy funds are fully utilised to recruit, retain and develop talent across the family-owned, food and drink wholesale, retail and distribution business.

A.F. Blakemore's Director of Corporate Affairs Paul Cowley said that the business is committed to maximising the opportunities that apprenticeships provide and will use its levy budget to help meet skills and talent gaps across its operation.

Paul said: "We are in the process of registering 30 new apprentices since the introduction of the new funding arrangements in May and have a identified a number of creative and innovative ways to use our levy contribution over the remainder of the financial year.

"Our apprenticeship strategy will encompass both the recruitment of new employees and the introduction of new development programmes to up-skill existing colleagues."

The menu of apprenticeship opportunities provided by A.F. Blakemore includes plans to recruit 50 existing store managers onto a retail management programme, 40 new starters onto a structured warehouse & distribution apprenticeship and the use of the levy to fund business admin and finance training.

Paul added that the group apprenticeship strategy also has the potential to help meet skills gaps in high priority areas such as distribution drivers, IT programmers and the development of future leaders.

He said: "We are about to launch a new Future Leaders ILM-accredited management apprenticeship that will be co-delivered by the members of the PTP and A.F. Blakemore learning & development teams.

"This trailblazing initiative has the potential to be a core strand of our future leadership development plans and represents the way that we are seeking to approach the levy as an opportunity rather than a pure cost."

"At a time when businesses such as ours are facing multiple challenges related to increased competition, marketplace uncertainty and the implications of legislation such as the National Living Wage, the Apprenticeship Levy certainly poses another significant issue.

"With that said, we are committed to ensuring that we fully utilise our levy payments to help live our company value to maximise staff potential and their contribution to the company's success."

Paul went on to praise the contribution of Performance Through People in supporting A.F. Blakemore's apprenticeship strategy to date and welcomed closer collaboration in the months ahead.

Paul said: "A.F. Blakemore has more than 20 years' experience of working with PTP and they have been critical in helping us understand the implications of the apprenticeship legislation and develop a meaningful response.

"As PTP are West Midlands based they are well placed to support us in our heartlands but also have the scale and contacts to help us provide a truly national programme that recognises the geographical spread of our business."

Performance Through People Managing Director Rob Colbourne added: "PTP are thrilled to be working with such a forward-thinking organisation like Blakemores, who despite the significant challenges of the new apprenticeship reforms, have embraced them with open arms and are utilising the levy to support staff development and progression.
"We have been included in all major decisions that Blakemores are making with regards to the apprenticeship programme and our Business Development Director attends senior management team meetings at Blakemores and feels very much part of the team. This feels like a real partnership and we are genuinely excited about the future of the programme that has been developed."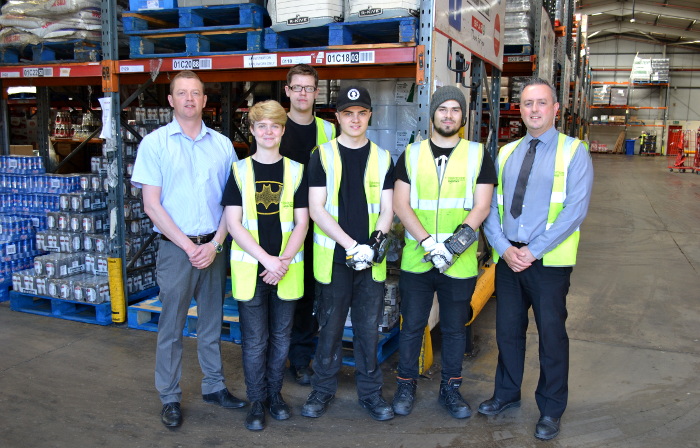 The first cohort of warehouse and distribution apprentices since the launch of the PTP partnership
News

August 13, 2020
A.F. Blakemore Expands Operations with Acquisition of Online Vegan Store
July 24, 2020
Philpotts Signs Up to Too Good to Go Food Waste App
July 23, 2020
Blakemore Retail Trials Self-service Checkouts
View all Stories