Info Centre


A.F. Blakemore Launches 1917 Heritage Grants Scheme
April 05, 2017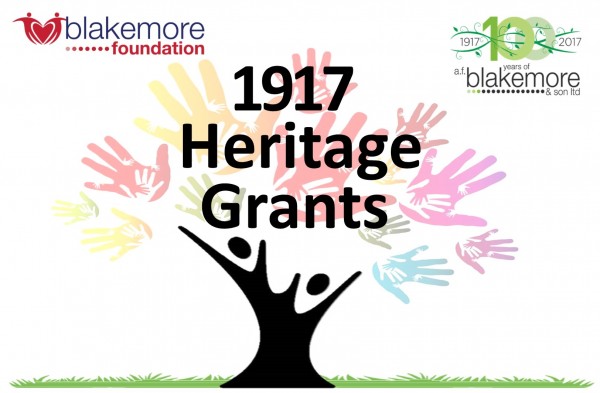 A.F. Blakemore is marking its centenary with a 1917 Heritage Grants Scheme to support good causes across its trading area.
This year, the company's charitable trust, the Blakemore Foundation, will be awarding a number of one-off community grants worth £1,917 each to good causes across England and Wales.
The grants must be used to sustain good causes for the long term, for example providing funding towards new buildings, specialist equipment, refurbishments or learning programmes.
A.F. Blakemore Community Affairs Officer Kate Senter commented: "The 1917 Heritage Grants Scheme has been launched with the primary aim of supporting good causes in local communities.
"In particular the grants will focus on helping the sustainability of charities, organisations and community groups in recognition of the company's commitment to growing sustainably for the benefit of staff, customers and the community."
The Blakemore Foundation was established by the Blakemore family in 1992 and over the last 10 years has donated more than £1.7 million to good causes across the company's trading area, which stretches across central England and all of Wales.
Local charities and good causes including social clubs, sports clubs, community groups, schools, hospitals, family associations, hospices and environmental projects have all benefited.
Kate added: "A.F. Blakemore staff have a long history of supporting good causes in their communities.
"We are really keen for all colleagues, retailers and customers to get behind the scheme and encourage anyone who has a project or good cause that would benefit from this new grant funding to consider applying.
"The application form is very straightforward, so it's really easy to submit a nomination. All applications must be received by July 28th."
More information on the 1917 Heritage Grants Scheme can be found in the Community area of A.F. Blakemore's website by clicking on the following link: www.afblakemore.com/our-community/1917-heritage-grant.
If you require further information, please contact Community Affairs Officer Kate Senter on 0121 568 2910 or email .(JavaScript must be enabled to view this email address).
Key Dates for Your Diary
April 7th 2017: Heritage Grants Scheme opens for applications
July 28th 2017: Heritage Grants Scheme closes for applications
September – October 2017: Applications presented to Blakemore Foundation trustees
October – December 2017: Grants awarded to successful applicants

Promotional Poster

Click here for a poster to help promote our Heritage Grants Scheme

Grant Scheme Overview

Click here for further information on good causes eligible to apply for funding
News

August 13, 2020
A.F. Blakemore Expands Operations with Acquisition of Online Vegan Store
July 24, 2020
Philpotts Signs Up to Too Good to Go Food Waste App
July 23, 2020
Blakemore Retail Trials Self-service Checkouts
View all Stories