Info Centre


A.F. Blakemore Honoured at Apprenticeship Awards
February 21, 2018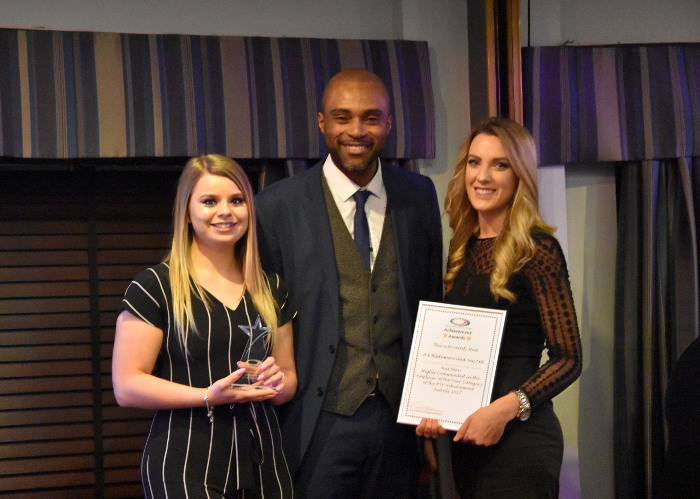 A.F. Blakemore has been crowned Employer of the Year at this year's Performance Through People Achievement Awards.
The Performance Through People (PTP) Achievement Awards, organised by West Midlands-based training company PTP, took place on February 15th at the Village Hotel in Walsall to recognise local companies' contribution to apprenticeships.
Around 90 guests gathered at the event to listen to some of the success stories from apprentices and employers.
A.F. Blakemore Community Affairs Officer Liz Blakemore commented: "The awards night was wonderful and it was very exciting to hear that we had won.
"The evening was inspiring and it was great to hear everyone's stories and see the variety of people that were doing apprenticeships, not just young people fresh from school."
In spring 2017 a national Apprenticeship Levy came into force, which now sees UK employers funding new apprenticeships. The levy applies to employers in England who have an annual pay bill above £3m.
Liz explained that A.F. Blakemore has worked hard to ensure that the impact of the apprenticeship levy has had as positive an outcome as possible.
She said: "Before the apprenticeship levy was introduced we put certain measures in place. We set up a working group of people from across the company and looked at areas of the business that needed apprentices.
"Apprentices are vital to the future of our company, and their contribution is invaluable. The levy has had a big impact, but we don't treat it as a bill or a tax. We look at it as something positive that is getting more young people and staff onto apprenticeships."
During the night, guests were entertained by a guitarist and close-up magician, while PTP board members John Punch, Kevin Davis and Jane Preece presented the different awards.
Performance Through People is the lead provider in the delivery of A.F. Blakemore's 2017/18 apprenticeship programme, which encompasses both the recruitment of new employees and the introduction of new development programmes to upskill existing colleagues.
A.F. Blakemore, which has employed apprentices for more than 20 years, plans to recruit 50 existing store managers onto a retail management programme and 40 new starters onto a structured warehouse & distribution apprenticeship, and to use the levy to fund business admin and finance training.
This month the company also launched a new Future Leaders ILM-accredited management apprenticeship that will be co-delivered by the members of the PTP and A.F. Blakemore learning & development teams.
A.F. Blakemore's apprenticeship opportunities can be found at afblakemore.ourvacancies.co.uk.


Next week is National Apprenticeship Week, which could provide the perfect opportunity for you to take a fresh look at the role of apprenticeships in the workplace.
National apprenticeship standards have been developed that encompass a vast array of job roles and levels that will enable A.F. Blakemore to upskill its current workforce along with attracting and developing future recruits.
The company's initial focus has been to establish apprenticeship schemes in high volume roles such as warehousing, driving and retail. However, we are now implementing phase two of our apprenticeship rollout that will help us upskill more specialist roles across the business.
If you would like to learn more about the apprenticeships and how these qualifications can support A.F. Blakemore in becoming a profitable and sustainable for the future, please contact Liz Blakemore at .(JavaScript must be enabled to view this email address).
News

August 13, 2020
A.F. Blakemore Expands Operations with Acquisition of Online Vegan Store
July 24, 2020
Philpotts Signs Up to Too Good to Go Food Waste App
July 23, 2020
Blakemore Retail Trials Self-service Checkouts
View all Stories