Info Centre


2017 Responsible Business Report Out Now
February 28, 2017
A.F. Blakemore has published its 2017 Responsible Business Report.
The report highlights the responsible business activity undertaken across all divisions of A.F. Blakemore during the 2015/16 financial year in addition to the group's financial performance.
Practical examples of A.F. Blakemore's approach to business in accordance with its Blakemore Way values are showcased across the areas of the workplace, marketplace, community and environment.
The report also contains an overview of A.F. Blakemore's 2020 Strategy and looks ahead to how the company's responsible business programme will continue to evolve in 2017 and beyond.
A.F. Blakemore & Son Chairman Peter Blakemore commented: "While our centenary year represents a time to look back and reflect, it also provides an opportunity for us to look ahead to the future and the company's 2020 vision, which is focused upon generating sustainable growth and long-term prosperity.
"A.F. Blakemore has set out a vision to solidify its position as a multi-market national food operator with a fantastic reputation for service among trade partners and consumers. Collaboration is now required across the A.F. Blakemore Group for the business to achieve its goals.
"This publication symbolises this approach and combines the great work taking place across the wider Blakemore Group into one single document."
Click here to read A.F. Blakemore's
Responsible Business Report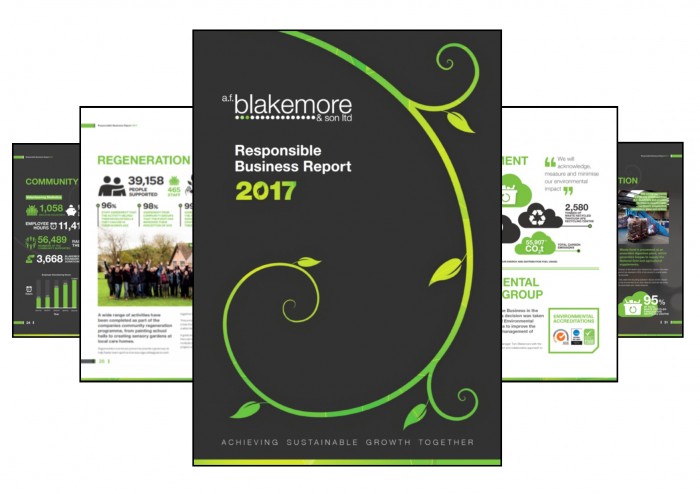 News

June 17, 2020
AFB to Give Away £30,000 with Community Cashback Scheme
April 30, 2020
Blakemore Retail Launches Home Delivery Website
April 23, 2020
A.F. Blakemore Introduces Home Delivery for Most Vulnerable
View all Stories