Main Menu


SPAR UK Raises £1 Million for Marie Curie
January 29, 2019
SPAR UK has announced that its fundraising efforts for terminal illness charity Marie Curie have passed the £1 million mark.
SPAR stores began fundraising at the start of the partnership in March 2017 and have now reached this brilliant milestone, which is the equivalent of paying for 50,000 hours of care from Marie Curie Nurses.
Marie Curie provides care and support for people living with a terminal illness and their families, helping them make the most of the time they have together.
In March 2017, SPAR stores supported Marie Curie's biggest annual fundraiser, the Great Daffodil Appeal, hosting collection boxes and encouraging customers to donate. Since then, SPAR has continued its support of the Great Daffodil Appeal in 2018, as well as other annual fundraisers including the Blooming Great Tea Party.
SPAR stores also fundraised through the sales of its sandwich ranges, including the popular Christmas sandwich selection, with a donation from each sale going to the charity.
The convenience store group's efforts were matched by SPAR staff members organising fundraisers across the country, including cycle rides in Cornwall, Ben Nevis treks, 'Go Yellow' days and hundreds of tea parties throughout the UK.
SPAR UK Marketing Controller Laura McNally said: "We are thrilled to reach the £1 million milestone for Marie Curie. This was a nationwide effort, and we are truly grateful and thankful to everyone who helped make our efforts so fruitful.
"We are proud to be partnered with Marie Curie and help support the fantastic work they do ensuring families make the most of the time they have left together."
Marie Curie Senior Partnership Manager Helen Nelson said: "SPAR's outstanding dedication to fundraising for Marie Curie is remarkable. Breaking the £1 million milestone is a phenomenal achievement and will go a long way to helping the charity provide care and support for people living with a terminal illness and their families. Thank you SPAR!"
Having reached the £1 million milestone, SPAR stores will continue fundraising, with donations from the sales of fresh daffodil bunches and a selection of SPAR brand products going towards this year's Great Daffodil Appeal in March, while SPAR stores nationwide will be hosting Blooming Great Tea Parties in June.
SPAR also aims to raise awareness of the charity's Information & Support Line – 0800 090 2309 –through their digital channels and in-store communications.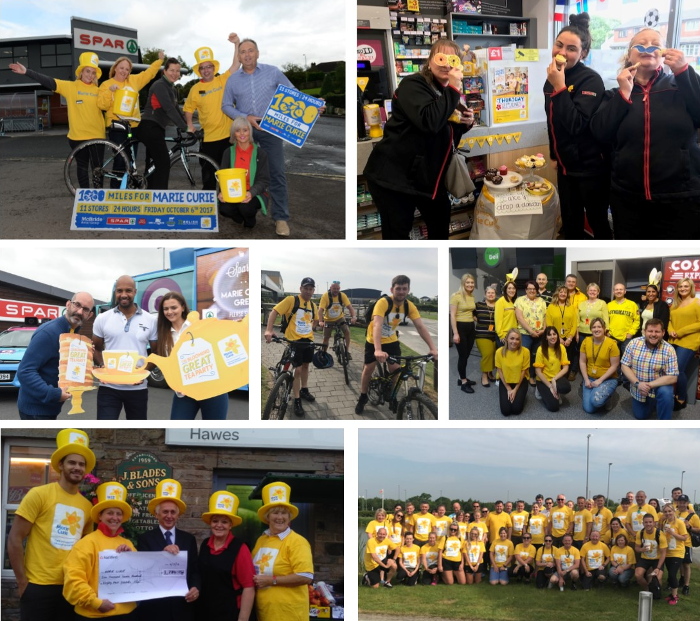 A snapshot of SPAR colleagues' fundraising activity for Marie Curie
News

December 01, 2021
Get a Letter from Santa and Help the NSPCC
November 25, 2021
Blakemore Colleagues Attend Disability Sport Wales Paralympic Celebratory Dinner
November 15, 2021
Blakemore Retail and NSPCC Win at Corporate Engagement Awards
View all Stories