Main Menu


SPAR Retail Show Makes Generous Donation to Local Food Banks
October 28, 2019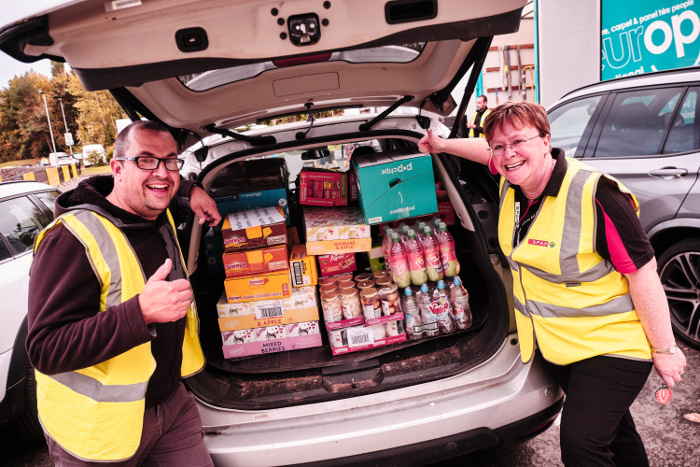 A total of 467kg of food, drink, toiletry and household goods were donated to local food banks following Blakemore Trade Partners' SPAR Retail Show at the International Centre in Telford in October.
Thanks to suppliers who exhibited at the event, leftover stock was delivered to Cannock & District Foodbank, the Buddy Bag Foundation and Dawley Christian Centre Foodbank.
The Cannock & District Foodbank helps local people in crisis and is part of a larger community of nationwide food banks supported by The Trussell Trust. The Buddy Bag Foundation provides children with a bag of essentials when they have been put into emergency accommodation.
Meanwhile, the Dawley Christian Centre Foodbank, which received two lorryloads of goods, donates food to those in need in Dawley and surrounding areas. The food bank is run by a group of volunteers from The Dawley Christian Centre Methodist Church.
Sharon from the Dawley Christian Centre Foodbank commented: "Dawley Christian Centre Foodbank would like to express our immense gratitude for our delivery of food from Blakemore Trade Partners following their recent SRS event.
"We are absolutely thrilled to bits. Not only have we been able to restock our own cupboards, freezers and fridges, but we have also been able to help other local organisations who support the most vulnerable people in our community.
"Please pass on our thanks to the wonderful delivery drivers who went out of their way to help us."
Cannock and District Foodbank said: "We had a visit at the weekend from the lovely Sally Badhams from A.F. Blakemore and her husband and daughter, donating again to the food bank.
"A.F. Blakemore is always so supportive and generous with its donations, this time giving around half a ton of food! Thank you so much. All the food we receive makes such a big difference to local people in need."
BTP Retail Services Assistant Sally Badhams commented: "The effect that these donations have on these organisations is difficult to put into words, but one of the main ones is gratitude. It's nice to see that as a result of our trade show, we are able to help local organisations in some way."

Colleagues collate food, drink, household and toiletry items for the food banks after the close of the SPAR Retail Show
News

December 01, 2021
Get a Letter from Santa and Help the NSPCC
November 25, 2021
Blakemore Colleagues Attend Disability Sport Wales Paralympic Celebratory Dinner
November 15, 2021
Blakemore Retail and NSPCC Win at Corporate Engagement Awards
View all Stories