Main Menu


Colleagues Rally Together for Education Focus Week
November 30, 2017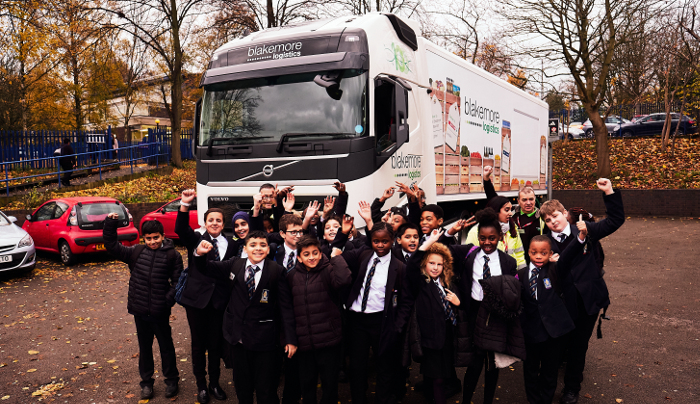 A series of events to inspire and inform young people of the opportunities available across the food and drink sector has taken place to celebrate 100 years of A.F. Blakemore & Son Ltd.
The focus week showcased A.F. Blakemore's Branching Out education programme, with colleagues from across the company participating in a series of events during week commencing on November 24th.
Events included road safety talks, a study tour at the company's head office and a career day at a Wolverhampton school. The company also hosted a sharing best practice forum for members of the Black Country Chamber of Commerce.
Group Board Director Caoire Blakemore said: "The celebration, which represents the third and final of our centenary focus weeks, showcased A.F. Blakemore's commitment to growing a sustainable business by inspiring employees of the future.
"A.F. Blakemore has a proud history of engaging the communities that we serve and this can be seen no more so in the work that we have undertaken as part of our Branching Out education programme."
During the week, Blakemore Logistics hosted its annual Road Safety Week at 15 schools in the West Midlands, South Wales and the South East. Using an A.F. Blakemore vehicle to demonstrate, colleagues taught pupils about the dangers of playing near large LGVs and led a series of classroom activities designed to showcase the wide variety of job roles available in the logistics sector.
The Blakemore Trade Partners sales team hosted a study tour with students from Essex University where they heard from current graduates on the A.F. Blakemore Graduate Scheme who offered advice about what is expected of them in the world of work.
The Blakemore Trade Partners marketing team, in collaboration with Business in the Community and law firm FBC Manby Bowdler, also conducted a careers day at Eastfield Primary School in Willenhall.
At the Black Country Chamber of Commerce sharing best practice event, Director of Corporate Affairs Paul Cowley and Community Affairs Officer Liz Blakemore showcased A.F. Blakemore's apprenticeship scheme to 12 senior representatives from Black Country businesses.
Caoire went on to thank all those who had made the week such a success. She said: "The team created a great programme over the course of the week to highlight the breadth of activities that our educational programme covers, and I would like to congratulate them all for the role that they have played in inspiring the next generation."
There is still time to register your interest in A.F. Blakemore's Reading and School Governor programmes. Please email Community Affairs Officer Liz Blakemore at .(JavaScript must be enabled to view this email address) for more information on how to get involved.
Here are some photos from the week:
Blakemore Logistics Road Safety Week
Essex University Study Tour
Eastfield Primary School Careers Day
News

December 01, 2021
Get a Letter from Santa and Help the NSPCC
November 25, 2021
Blakemore Colleagues Attend Disability Sport Wales Paralympic Celebratory Dinner
November 15, 2021
Blakemore Retail and NSPCC Win at Corporate Engagement Awards
View all Stories