Main Menu


Colleagues Go Western to Help Keep Children Safe Online
June 03, 2019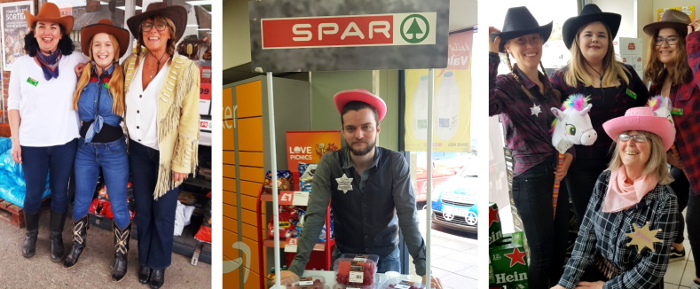 Colleagues based at Blakemore Retail SPAR stores across England and Wales threw on their Stetsons and denim jeans to raise awareness and help fundraise for the NSPCC.
Over the Whitsun Bank Holiday weekend, colleagues at all 280 Blakemore Retail SPAR stores took part in the NSPCC's Wild West Weekend, to support the Wild West Web campaign and help raise awareness of the importance of keeping children safe online.
Colleagues got into the spirit of the event, pulling on their denim and sporting cowboy hats to hold western-themed fundraisers for customers to take part in.
The aim of the event was to make the Wild West Web campaign visible across social media platforms by sharing photos with the hashtag #WildWestWeb, as well as spreading the word in-store to local customers.
So far the NSPCC has received over 55,000 signatures for its petition calling for statutory regulation to ensure that social media networks have a legal duty of care to protect every child.
If passed, the new law will create an independent regulator to put in place mandatory child safety rules and fine those that do not comply. The law will also ensure that safe social media accounts exist for children and that social media networks provide detailed reports on safeguarding policies.
Acting Head of Blakemore Retail Matt Teague commented: "Once again our store staff have made an astounding effort to support the NSPCC and raise awareness around internet safety.
"I am incredibly proud of our colleagues' continued enthusiasm and dedication, which will help improve child safety across social media platforms."
For more information about the Wild West campaign, go to www.nspcc.org.uk/wildwestweb.
Here are a few photos from the fundraiser:
Hagley

Rhuddlan

Llangefni

Cowbridge

Hardys Road

Barnby Dun

Ludlow

Leegomery

Kidderminster

Mount Crescent

Pictured top of page L-R: Bishops Castle, Bannerbrook and Westway
News

December 01, 2021
Get a Letter from Santa and Help the NSPCC
November 25, 2021
Blakemore Colleagues Attend Disability Sport Wales Paralympic Celebratory Dinner
November 15, 2021
Blakemore Retail and NSPCC Win at Corporate Engagement Awards
View all Stories