Main Menu


Blakemore Retail Raises Child Safety Awareness and a Roarsome £52,000 for the NSPCC
September 04, 2018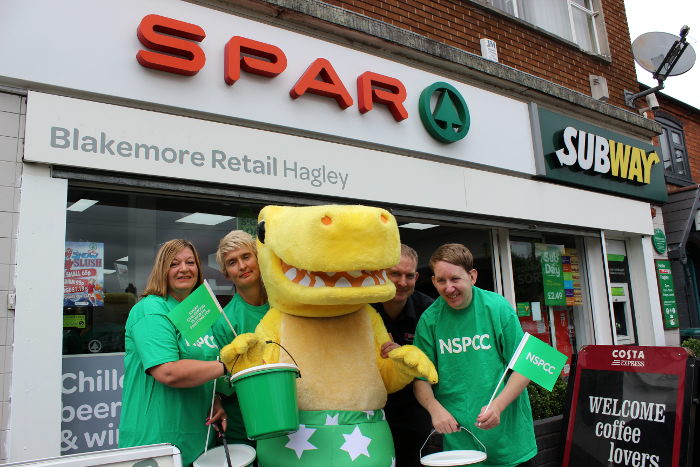 Blakemore Retail SPAR stores across England and Wales have been on a bank holiday fundraising drive for the NSPCC while at the same time raising awareness about how parents can keep their children safe from sexual abuse.
Colleagues from Blakemore Retail organised a host of different activities for customers to mark PANTS Day.
In total, they raised an incredible £52,000 over the bank holiday weekend. These funds will allow the NSPCC to reach more than 17,000 primary school children to give them the knowledge and understanding to stay safe from abuse and neglect.
PANTS, also known as the Underwear Rule, has been created by the NSPCC to help parents teach their young children that their body belongs to them and that they should always speak to an adult if they are worried about anything.
To help spread the message a singing dinosaur called Pantosaurus appears in the games, films and apps that have been developed by the children's charity to support PANTS.
Some Blakemore Retail employees really got into the spirit of things by wearing their pants over their clothes, while others organised events including car boot sales, raffles, sponsored head shaves and in-store scavenger hunts.
Blakemore Retail Managing Director Stuart Adkin said: "Once again our store staff have made an astounding effort to support the NSPCC, who we have partnered with for over a decade, and have raised a fantastic amount of money just over this one weekend.
"I am incredibly proud of our colleagues' continued enthusiasm and dedication, which will change the lives of children living both within their local communities and across the UK."
NSPCC Head of Partnerships Michael McGrath added: "It was fantastic to see how Blakemore Retail staff across the country embraced their PANTS Day, finding lots of fun ways to raise money, entertain customers and share simple messages about how we can all keep children safe.
"We are incredibly grateful for everything that Blakemore Retail continues to do for the NSPCC, especially all those people who bravely decided to wear their pants over their clothes!"
For more information about PANTS or to download your own activity pack please go to www.nspcc.org.uk/pants.
| | |
| --- | --- |
| Intake | Yarborough |
| Kidderminster | Wyberton |
| Crosspool | Inkersall |
| Lingwood | Pontyclun |
| Chipping Sodbury | Wollaston |
News

December 01, 2021
Get a Letter from Santa and Help the NSPCC
November 25, 2021
Blakemore Colleagues Attend Disability Sport Wales Paralympic Celebratory Dinner
November 15, 2021
Blakemore Retail and NSPCC Win at Corporate Engagement Awards
View all Stories