Main Menu


Blakemore Retail Colleagues Take Stairway to Sky to Help NSPCC
November 01, 2018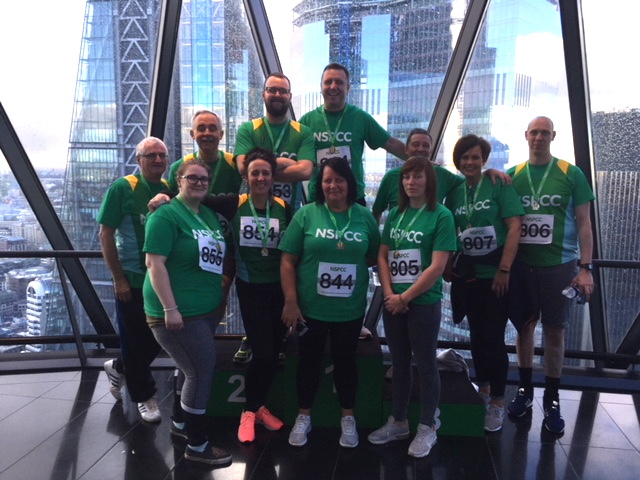 Blakemore Retail colleagues have combined fitness with fundraising, climbing to the top of one of London's most iconic buildings to raise money for the NSPCC.
A team of 11 joined hundreds of others on Sunday October 28th to take on the charity's annual Gherkin Challenge, successfully navigating the 38 floors and celebrating at the top with a glass of bubbly.
The Blakemore Retail team travelled to London from five different SPAR stores – Wombourne, Lawnswood, Russells Hall, Wollaston and Westway – and raised £2,800 in total.
The funds will be used to support the NSPCC School Service and their 'Speak Out. Stay Safe' programme. It teaches primary school children about abuse and neglect in an age appropriate way, and advises them on what to do if anything worries them.
Romaine Maret, from the NSPCC Corporate Partnership Team, said: "Once again Blakemore Retail staff have taken themselves out of their comfort zone in an effort to raise money to help us and our fight for every childhood.
"At the beginning of the month it was the Big SkyDive and now they have completed the Gherkin Challenge.
"We are so grateful for their ongoing support and their willingness to bravely go where many of them have not been before!"
Blakemore Retail Regional Manager Owen Davies added: "I'm very proud of their efforts; quite literally they've been going above and beyond to raise funds for the NSPCC.
"I look forward to seeing what they come up with next!"
Pictured above:
The 11 keen fundraisers: Julie and Richard from SPAR Wombourne; Hilary and Hannah from SPAR Lawnswood; Graham from SPAR Wollaston; Tim from SPAR Russells Hall; Sharon, Lee, Becky and Liam from SPAR Westway; and Area Manager Mark Bostock

News

January 02, 2019
Blakemore Colleagues Celebrate Cracking Community Christmas
December 31, 2018
Community Volunteering Steps Up in Logistics
November 28, 2018
Blakemore Logistics Delivers Road Safety Message to Schools
View all Stories