Main Menu


Blakemore Foundation Supports Macmillan Coffee Morning
October 03, 2018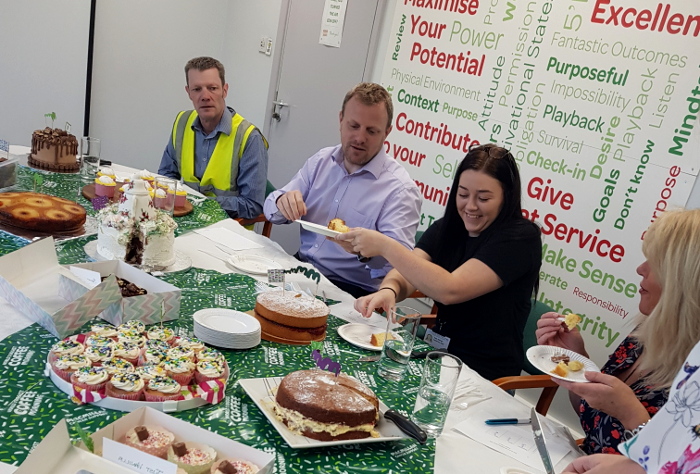 Blakemore employees have donated more than £1,800 worth of refreshments to Macmillan Cancer Support's 'World's Biggest Coffee Morning'.
Blakemore Retail SPAR stores across England and Wales awarded more than 49 in-kind donations worth £1,805 via the company's charitable trust the Blakemore Foundation.
The donations of tea, coffee, cake, biscuits and squash were given to members of the local community fundraising for the event, which took place on September 28th.
Fundraising stores included SPAR Presteigne, which raised £250 with a charity head shave, and SPAR Raunds, which raised £232 with a coffee morning. Both will receive £200 match funding from the Blakemore Foundation.
Meanwhile, baking enthusiasts at Blakemore Foodservice's James Bridge depot hosted a 'best bake' competition and coffee morning and raised £61, which will also be match funded by the Blakemore Foundation.
Monies will go towards the cancer charity's medical, emotional, practical and financial support to those facing cancer, as well as campaigning for better cancer care.
Community Affairs Officer Kate Senter commented: "The Blakemore Foundation has supported avid supporters of Macmillan's 'World's Biggest Coffee Morning' for a number of years now.
"We hope that backing from the Blakemore Foundation has enabled fundraisers to boost their fundraising and inspire others to give their support.
"Congratulations to all those who helped to raise funds for this worthy charity."

Here are some photos from Blakemore Foodservice's baking competition:
| | | |
| --- | --- | --- |
| 1st place | 2nd place | 3rd place |

News

February 15, 2019
Blakemore Retail Colleagues in a Spin to Raise Over £1,500 for NSPCC
January 29, 2019
SPAR UK Raises £1 Million for Marie Curie
January 28, 2019
Blakemore Retail Colleagues' Daring Deeds Raise Over £200k for NSPCC
View all Stories