Main Menu


Blakemore Foundation Covid-19 Support Reaches Value of £176,000
February 17, 2021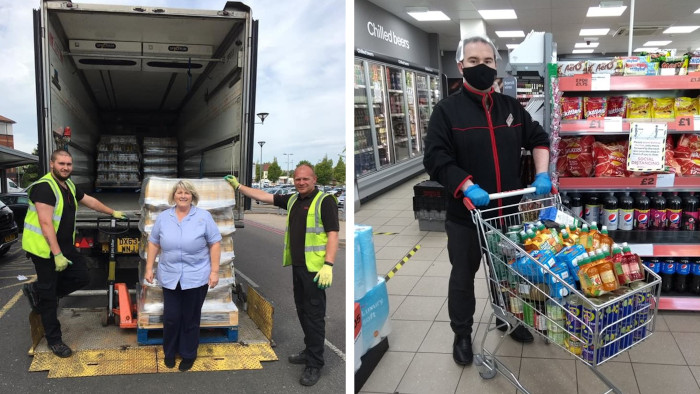 Charitable donations awarded to Covid-related causes via the Blakemore Foundation have now reached the incredible value of £176,000.
Colleagues from across A.F. Blakemore have supported more than 2,400 Covid-related good causes throughout England and Wales during the coronavirus crisis.
Donations of essential groceries have been awarded to numerous food banks, soup kitchens and volunteer groups to support vulnerable people. Meanwhile, donations of bottled water and treats have been given to hundreds of frontline key workers in hospitals, schools and care homes.
The Blakemore Foundation has helped to support vital care and community support services offered to those in need during the pandemic. To date, the Blakemore Foundation has awarded more than 2,000 in-kind donations worth around £114,000.
Some of the recent beneficiaries include Black Country Food Bank, Countess of Chester Hospital NHS Foundation Trust, Ashgate Hospice Care, Grimsby Food Kitchen, Abergele District Food Bank and Reepham Soup Kitchen.
As well as goods, the Blakemore Foundation has helped to sustain and replenish funds for vital specialist services offered by charities across England and Wales.
To date, the Blakemore Foundation has helped 393 good causes with monetary donations worth more than £69,000. Some of the recent beneficiaries include the Sunny Days Children's Fund in Essex, Maggie's Centres (for Cancer Support), Wolverhampton MS Therapy Centre, St Andrew's Hospice in Grimsby and the Indian Muslim Patel Society near Wakefield.
Support for Covid-19 related good causes has not stopped at charitable giving through the Blakemore Foundation. Kind-hearted teams from across the company's estate have gifted goods.
Blakemore Foodservice has donated £121,361 worth of stock to food banks, including St James Church in Wakefield, Telford Food Share, St James the Evangelist in Wakefield and Freely Given in Doncaster.
Blakemore Fresh Foods has donated fresh foods hampers to NTCG Harvest Temple, Good Shepherd, The Well, Walsall Outreach and Black Country Women's Aid.
The Trading department in Talbot Green has donated £3,700 worth of confectionery gifted by suppliers to a project set up in Tonyrefail that helps feed vulnerable children.
A.F. Blakemore also ran a Community Cashback Grant scheme across its SPAR stores last summer to thank groups who are there for vulnerable people during the Covid-19 crisis. The company gave away £30,000 to local charities and community groups across its trading area.
Community Affairs Officer Kate Senter commented: "It's clear that A.F. Blakemore has played a key role in local communities throughout the coronavirus pandemic – not only supplying essential goods and services via its stores and helping local councils feed vulnerable people, but via charitable giving.
"When you look at all of the company's charitable initiatives collectively, the value of donations awarded to causes that have supported people during the pandemic actually far exceeds £300,000.
"Backing from the Blakemore Foundation has enabled many much-loved charities to continue their amazing work and voluntary groups to support those in need at a time that has been challenging for many.
"All of this couldn't have been achieved without the vital support of colleagues, who have played an essential role in recommending good causes and supporting the logistics of our charitable giving operation, both in stores and behind the scenes."
Here are just a few of the thank you messages received on social media: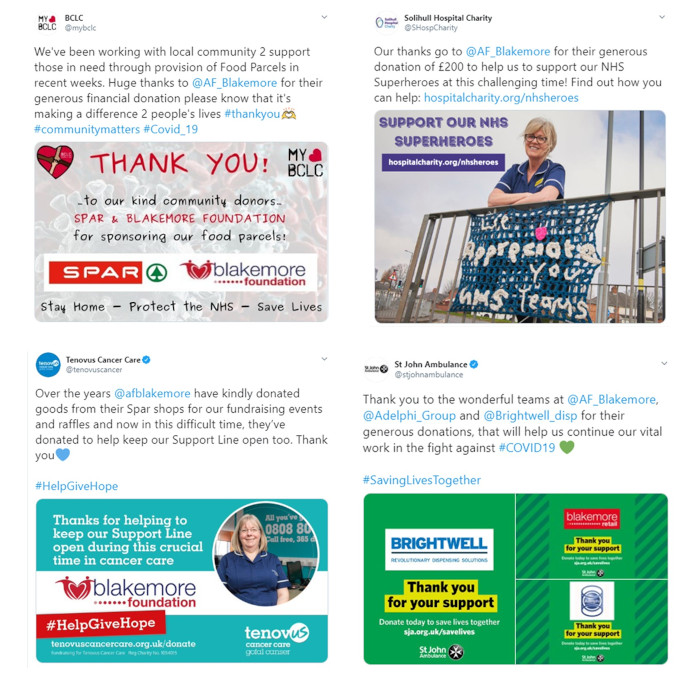 Pictured above:
Blakemore Foodservice provided a donation of orange juice to staff at Walsall Manor Hospital
SPAR Aldridge provided a £100 in-kind donation to Ablewell Advice for their food bank, which supports people in Walsall
News

December 01, 2021
Get a Letter from Santa and Help the NSPCC
November 25, 2021
Blakemore Colleagues Attend Disability Sport Wales Paralympic Celebratory Dinner
November 15, 2021
Blakemore Retail and NSPCC Win at Corporate Engagement Awards
View all Stories