Main Menu


Blakemore Colleagues Support More Than 300 Easter Activities
April 06, 2021

A.F. Blakemore colleagues have been helping to make Easter 'eggstra special' for their local communities this year with a variety of charitable giving and fundraising initiatives.
The company has donated £14,669 worth of stock to around 319 different Easter activities via the Blakemore Foundation this spring.
Meanwhile, Blakemore Retail colleagues are anticipated to have fundraised circa £20,000 for the NSPCC over Easter with the help of an Easter bunny competition and charity hampers.
Fundraising activities have been varied this year – from virtual discos, raffles and auctions to Easter egg hunts, colouring competitions, egg decorating competitions, Easter bonnet parades and Easter parties taking place in schools and care home bubbles.
Blakemore Retail has also been donating Easter eggs to care homes, children in hospital wards and hospices, and to key workers on hospital Covid-19 wards.
A special mention goes to Blakemore Retail colleague Claire Deacon, who has been part of a group of volunteers that has been going around South Wales care homes delivering thousands of Easter eggs.
Claire has donated 60 eggs to the good cause herself and also, via AFB's Trading team, managed to get supplier McVitie's to make a contribution of cake bars, which were donated via Blakemore Retail's New Road store.
Some of the many good causes supported by A.F. Blakemore this Easter include North Wales Super Kids in Flint, St David's Hospice in Newport, Brookside Care Home in Stafford, Belle Vue Primary School in Wollaston, Temple Normanton Junior Academy in Holmewood, Staplehurst Primary School in Kent, Velindre Cancer Centre in Cardiff, Wrexham Maelor Hospital in Wrexham, Great Coates Village Nursery in Scartho, Elm Lodge Care Home in Chesterfield, Francis House Children's Hospital in Manchester and Bluebell Wood Children's Hospice in Sheffield.
In the West Midlands, Blakemore Foodservice has also donated £500 worth of stock and a games console prize to Walsall Council's Holiday Activities and Food Programme, which is aimed at providing healthy food and enriching activities for primary and secondary school aged children who are eligible for benefit-related free school meals.
Walsall Council has collaborated with MKG Foods, Co-op Food and Blakemore Foodservice to provide all 1,822 children signed up to the programme with a healthy recipe box. This includes ingredients, recipe cards and nutritional information to help families to cook four healthy family meals during the Easter holidays.
A.F. Blakemore Community Affairs Officer Kate Senter commented: "As always it's fantastic to see so many people coming together to celebrate Easter and raise vital funds for those in need.
"The Blakemore Foundation is proud to be supporting so many good causes this spring. The sheer volume of fundraising and community events taking place despite the challenges of the Covid-19 pandemic is amazing."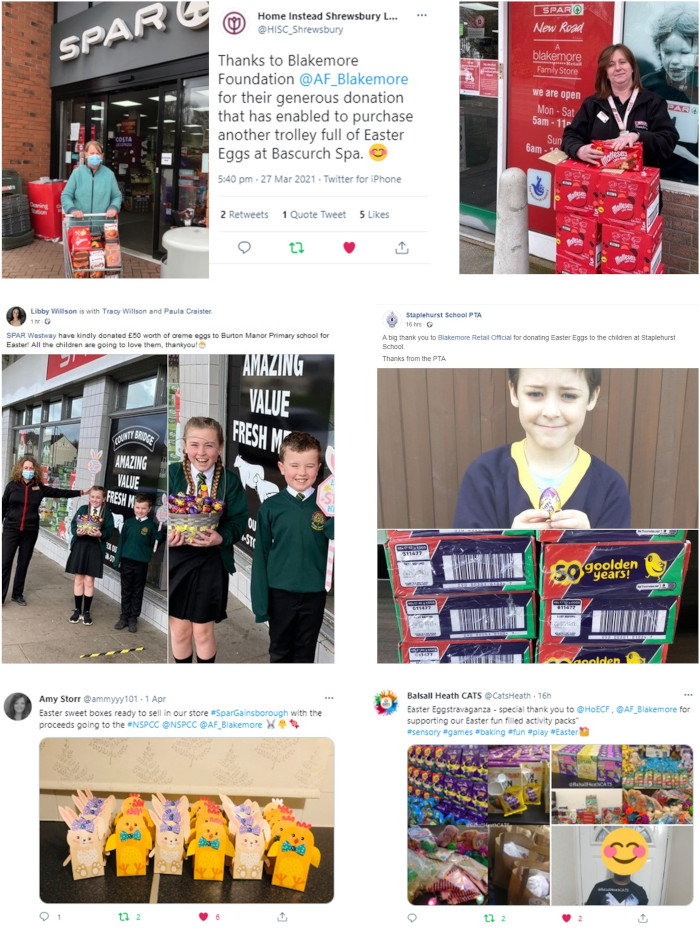 Just a few of the thank you and charitable giving messages posted on social media this Easter
News

December 01, 2021
Get a Letter from Santa and Help the NSPCC
November 25, 2021
Blakemore Colleagues Attend Disability Sport Wales Paralympic Celebratory Dinner
November 15, 2021
Blakemore Retail and NSPCC Win at Corporate Engagement Awards
View all Stories