Main Menu


Blakemore Colleagues Inspire Young People at Sikh Ethos School
October 26, 2017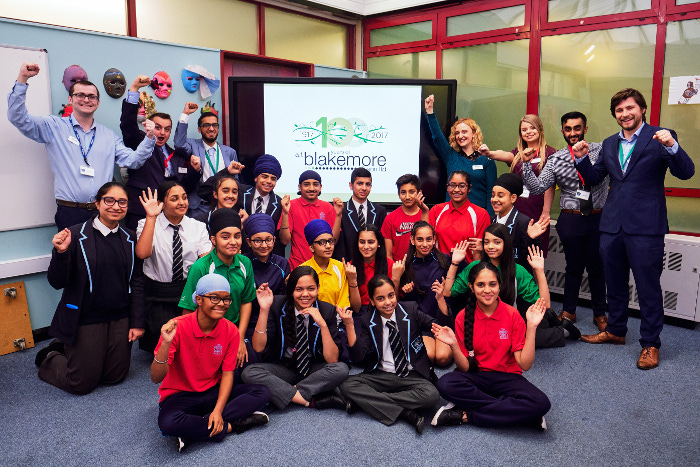 Graduates from A.F. Blakemore helped inspire the next generation of students at the Khalsa Academy in Wolverhampton as part of the company's centenary celebrations.
The school visit took place during A.F. Blakemore's Equality, Inclusion and Diversity Week, which ran from 16th to 20th October to promote the importance of diversity in the workplace.
Colleagues currently on the A.F. Blakemore Graduate Scheme visited the Sikh ethos school based in Wolverhampton to share experiences and engage students in a series of activities based around graduate roles within the business.
The visit to the school was conducted through A.F. Blakemore's new education programme, Branching Out, which seeks to equip young people with greater employability skills and a greater awareness of opportunities across the food and drink sector.
Community Affairs Officer Liz Blakemore, who organised the event, commented: "Branching Out enables colleagues at A.F. Blakemore to volunteer and inspire young people to enter the world of work through offering a range of career support programmes.
"The day was a lot of fun and it was fantastic to see the students considering their future careers and really engaging with the graduates about their roles."
Assistant Principal Rashpal Channa said of the day: "This was a fantastic opportunity for our students as it enabled them to have meaningful conversations with different people in the world of work.
"The students commented on how interesting they found the day and that they loved asking questions during the 'Guess the Graduate' game. Collaborating with local businesses allows students to discover the real world and also makes them think about their future aspirations and how to achieve them."
The visit ended with pupils making skills and attitudes trees to encourage them to think about the qualities that are useful in gaining employment.
News

December 01, 2021
Get a Letter from Santa and Help the NSPCC
November 25, 2021
Blakemore Colleagues Attend Disability Sport Wales Paralympic Celebratory Dinner
November 15, 2021
Blakemore Retail and NSPCC Win at Corporate Engagement Awards
View all Stories