Main Menu


A.F. Blakemore Educates Schoolchildren on Rules of the Road
March 24, 2022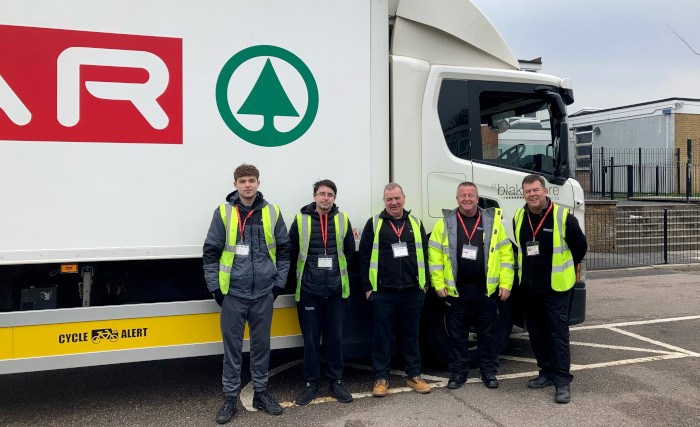 A.F. Blakemore has relaunched its road safety awareness campaign to more than 450 students at two West Midlands schools.
On 2nd and 3rd March, seven Blakemore colleagues volunteered 75 hours of work time to educating Year 7 schoolchildren from St Thomas More Catholic School and Pool Hayes Academy in Willenhall on the rules of the road.
A.F. Blakemore has run a road safety campaign for schoolchildren annually since 2008, but due to the pandemic this is the first road safety event since 2019.
Across the two days, volunteers educated the students on the dangers of the road with the help of an HGV demonstration to illustrate a lorry driver's blind spots.
The volunteers included Dean Carter, Mark Layton, Ian Holland, Dave Robinson, Luke Ward and Ben Harper from Blakemore Logistics, and also Community & Wellbeing Officer Beth Broadhouse.
Beth commented: "As a food and drink distributor with hundreds of vehicles on the roads each day, it's important that we do our best to educate pupils about road safety.
"Students thoroughly enjoyed the sessions and particularly enjoyed sitting in the driver's seat. Even teachers sat in the seat too.
"Thank you to all the volunteers who gave up their time for the event. We left both sessions with the Year 7 students wanting to be lorry drivers when they grow up."
Here are a few photos of the road safety campaign in action:
News

June 22, 2022
Blakemore Retail Spring Ball Raises £39,000 for NSPCC
April 21, 2022
Blakemore Retail Wins at NSPCC Corporate Impact Awards
March 25, 2022
Blakemore Colleagues Pack Bags of Essentials for People in Need
View all Stories