Main Menu


A.F. Blakemore Colleagues Master Marathon for Charity
April 30, 2019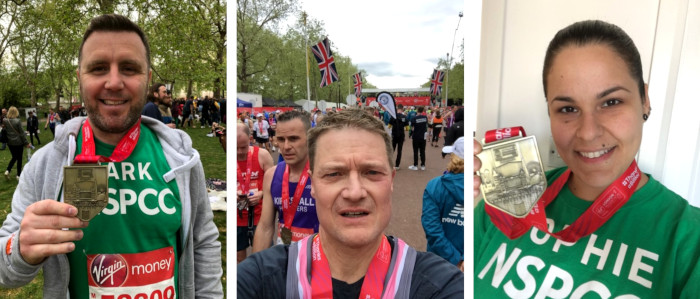 Four employees have collectively raised more than £9,000 for charity by running the London Marathon.
On April 28th, Blakemore Retail Area Manager Mark Bostock, Blakemore Retail Regional Manager Paul Wiltshire, South Benfleet SPAR Sales Assistant Sophie Litman and Blakemore Foodservice Transport Supervisor Daniel Brereton were amongst over 40,000 runners who embarked on the gruelling 26.2-mile race around the capital.
A record-breaking 414,000 people entered the ballot this year hoping to join the iconic race, making places hard to come by.
The race set off from Greenwich Park in south-east London and passed the capital's landmarks, including Big Ben and the Tower of London, before culminating at the world-famous finish line on The Mall.
So far, the four colleagues have raised more than £9,000 in total for charity, with funds still coming in thick and fast. The good causes supported were Paul Wiltshire's chosen charity, Breast Cancer Now, Mark Bostock's and Sophie Litman's chosen charity, the NSPCC, and Daniel Brereton's chosen charity, Sport in Mind.
First time marathon runner Mark commented: "Raising money for such a wonderful charity is an absolute honour for me; places in the London Marathon are extremely limited and I am so humbled to have had this opportunity.

"Over the past six years I have been involved in raising money for the NSPCC by helping with different activities and events. It is incredible to see the difference donations make to vulnerable children's lives."
Paul, who ran his fifth marathon with his daughter, commented: "As always, running the London Marathon is not only an honour but a privilege to participate in.
"I am also very proud to have had the opportunity to run and raise money for Breast Cancer Now during the last five years, a charity that is very close to my family's heart, raising over £30,000 in that time.
"The crowds this year were much noisier and larger than previous years and the support that you receive from total strangers calling out your name is very reassuring and keeps you going.
"Finally, running the world's greatest marathon and reminding yourself of why you are running is very emotional, don't let anyone tell you anything different. The day will be banked in your 'one of your greatest days in your life bucket'."
Community Affairs Officer Kate Senter added: "It's fantastic what these four colleagues have achieved! Dedicating their time and really giving the race their all to raise money for three such worthwhile causes is truly inspirational.
"Well done to all – you should all be really proud. I hope you will now have time for a well-earned rest!"
The Blakemore Foundation also provided £400 of support to the marathon runners' fundraising.

If you would like to donate and haven't already, the links for each runner's page can be found below:
Mark Bostock:
www.justgiving.com/fundraising/nspccmarkbostock
Paul Wiltshire:
uk.virginmoneygiving.com/fundraiser-display/showROFundraiserPage?userUrl=TeamWiltshire&isTeam=true
Sophie Litman:
https://www.justgiving.com/fundraising/benfleetsophie
Daniel Brereton:
https://www.justgiving.com/fundraising/Daniel-Brereton
News

December 01, 2021
Get a Letter from Santa and Help the NSPCC
November 25, 2021
Blakemore Colleagues Attend Disability Sport Wales Paralympic Celebratory Dinner
November 15, 2021
Blakemore Retail and NSPCC Win at Corporate Engagement Awards
View all Stories