Main Menu


A.F. Blakemore Celebrates Random Acts of Kindness Week
March 04, 2020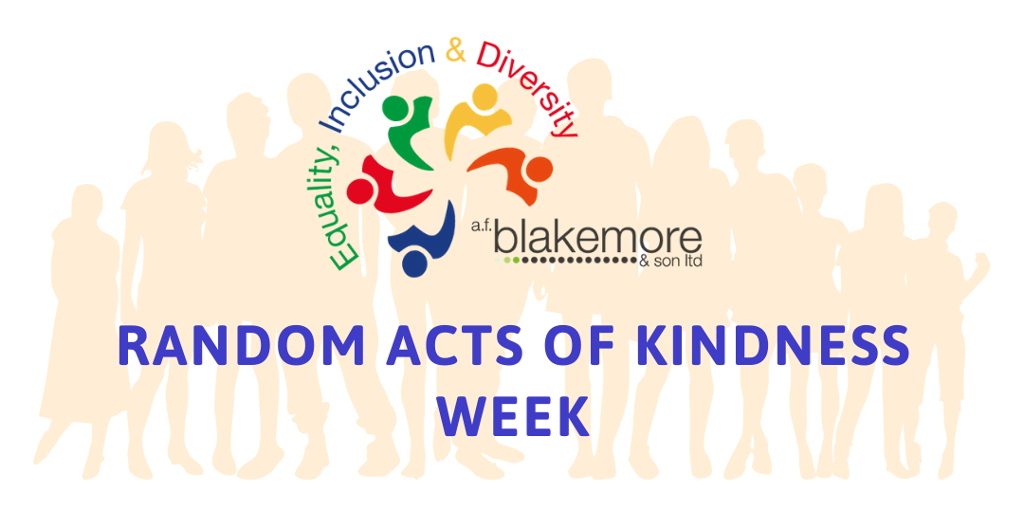 A.F. Blakemore has celebrated its first Random Acts of Kindness Week with colleagues across the business.
The event, which ran from 17th February to 23rd February, celebrated equality, inclusion and diversity across A.F. Blakemore and encouraged acts of kindness.
Random Acts of Kindness Day is a national celebration that takes place on 17th February every year. However, to encourage inclusivity for part-time colleagues and those working shifts, the company celebrated for a whole week.
The event was organised by A.F. Blakemore's Equality, Inclusion & Diversity Engagement Group, which will be arranging and celebrating diversity-related events throughout the year.
Demand Planner Rob Perrens, who sits on the EID Engagement Group, commented: "Random Acts of Kindness Week was an opportunity for everyone to do something thoughtful for colleagues and customers.
"The EID Engagement Group chose this event to raise awareness of equality, inclusion and diversity because everyone can get involved and show their support for others.
"It was the perfect occasion for A.F. Blakemore to acknowledge colleagues and say a big thank you."
Colleagues were encouraged to carry out small acts of kindness throughout the week. These acts included things like paying compliments to others, writing thoughtful notes, offering drinks, sharing treats, volunteering for a good cause or simply taking the time to listen.
Across Blakemore Retail's SPAR store estate colleagues gave out free treats to customers and went the extra mile to help with their shopping.
Store Manager Lynn Coldecott from SPAR Gresford said: "To complement our already brilliant, happy and kind team, we handed out free sweets and went the extra mile to help customers – even if it was just an additional chat or helping them out to their car during the horrid weather.
"Randomly I also helped someone who wasn't from our village who was looking for an address. I wasn't sure either, so I googled the postcode on my phone and gave them full directions!"
Some SPAR stores also took it upon themselves to organise fundraisers during the week. Bassaleg Road store in Newport, South Wales, chose to spend the week raising funds for mental health charity Mind.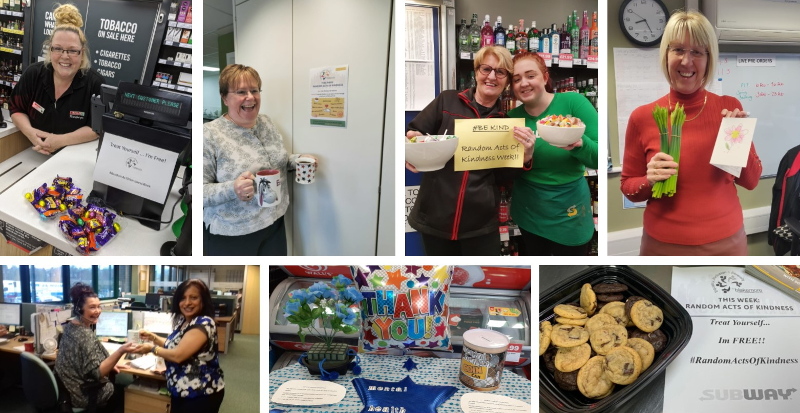 Colleagues across AFB celebrating the week with small acts of kindness
News

December 01, 2021
Get a Letter from Santa and Help the NSPCC
November 25, 2021
Blakemore Colleagues Attend Disability Sport Wales Paralympic Celebratory Dinner
November 15, 2021
Blakemore Retail and NSPCC Win at Corporate Engagement Awards
View all Stories