Main Menu


100th Anniversary Charity Birthday Party Raises £86,000 for Good Causes
September 29, 2017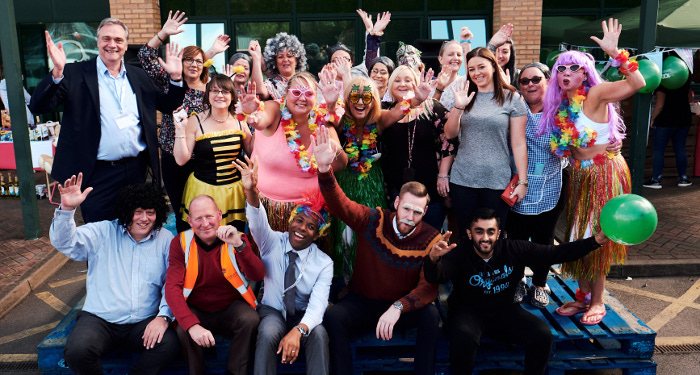 A.F. Blakemore's 100th anniversary Charity Birthday Party has raised more than £86,000 for good causes.
On September 1st, colleagues across England and Wales took part in 300 celebratory events at stores and depots across the company's trading area.
Good causes supported included local charities such as Compton Hospice in Wolverhampton and bereavement support charity 2 Wish Upon a Star in South Wales, and national charities such as the Alzheimer's Society, Macmillan Cancer Support and the Make a Wish Foundation to name but a few. Blakemore Retail fundraised for their charity partner, the NSPCC.
Colleagues organised fundraisers including fancy-dress days, barbecues, cake sales, raffles, fair stalls, sports games, sponsored bike rides, karaoke, a company-wide baking competition and even a virtual balloon race. An inter-depot lorry pull competition also took place across the company's distribution centres.
A.F. Blakemore's charitable trust, the Blakemore Foundation, donated funds towards refreshments and entertainment.
A.F. Blakemore Group Board Director Caoire Blakemore commented: "Thank you to every single one of you that made the celebration a huge success.
"Our Charity Birthday Party was one of the biggest events in the company's 100-year history and a great occasion for colleagues to get together with customers, suppliers, friends and family and have a bit of fun!
"At the heart of the celebration was one of the company's five core values: making a significant, positive contribution to the community."
A.F. Blakemore has been celebrating 100 years as a successful family business throughout 2017. To demonstrate its commitment to responsible business, the company has planned a series of focus weeks to emphasise the importance of the environment, education and equality & diversity in growing a sustainable business for the next 100 years.
The Blakemore Foundation has also launched a one-off large grants scheme for 2017 that will award grants of £1,917 to good causes across the company's trading area.
A.F. Blakemore & Son Ltd was founded in 1917 when Arthur and Harriet Blakemore opened a counter grocery store in Wolverhampton, and is today the 44th largest privately owned business in the UK.
Peter Blakemore is the third generation of the Blakemore family to lead the company, which is the largest member of SPAR UK, owning 291 SPAR stores and serving more than 1,000 in total across England and Wales.
Here is a snapshot of the fundraising that took place on September 1st:
| | |
| --- | --- |
| Willenhall head office | Willenhall head office |
| Talbot Green | Foodservice Wakefield |
| SPAR Beddau | SPAR Risca Park |
| SPAR Elstead | SPAR Greatstone |
| SPAR Cardigan | SPAR Crowland |
News

December 01, 2021
Get a Letter from Santa and Help the NSPCC
November 25, 2021
Blakemore Colleagues Attend Disability Sport Wales Paralympic Celebratory Dinner
November 15, 2021
Blakemore Retail and NSPCC Win at Corporate Engagement Awards
View all Stories