Blakemore Foundation


Welcome


Welcome to Blakemore in the Community
A.F. Blakemore is committed to the local communities in which it serves and actively encourages all employees to make a significant, positive contribution to the community.
Our colleagues undertake a wide range of activity every year to help support local good causes close to their hearts.
Activities include sponsored walks, charity fun days, the regeneration of indoor and outdoor community spaces and employability support for students.
All of this work is supported by the company's charitable trust, the Blakemore Foundation.
Click on the links below to read more about A.F. Blakemore's key focus areas in the community:
Key Achievements
During 2021/22, A.F. Blakemore's community programme supported a wide range of community groups and charities though community volunteering, fundraising and the Blakemore Foundation.
Here are a few statistics to highlight our achievements: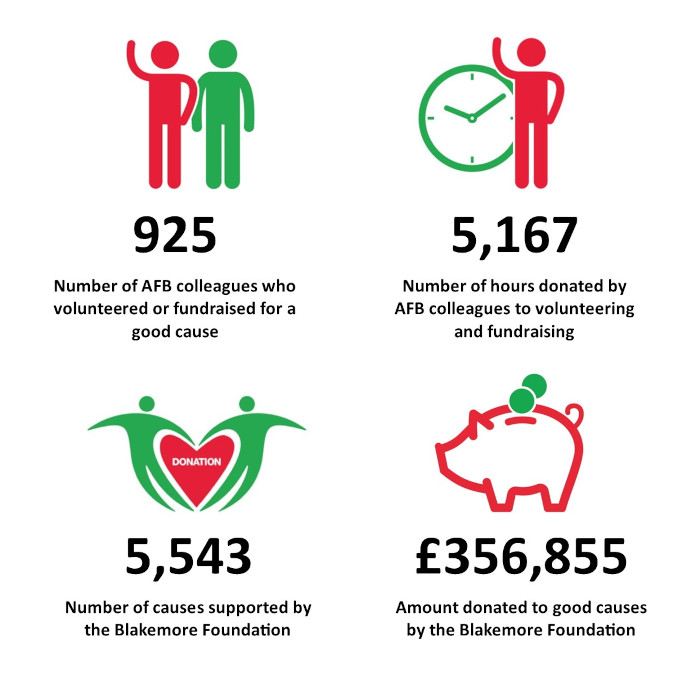 News

December 23, 2022
Donations Worth £65,000 Awarded to Good Causes at Christmas
September 13, 2022
Five Colleagues Cycle London to Paris for GroceryAid
July 12, 2022
SPAR UK Awards £100,000 to Good Causes Via Community Cashback Scheme
View all Stories